The dog's menu at Stanley's NE Restaurant and Bar in Minneapolis started as a fun way to reward dogs who accompanied their masters to happy hour on the patio and ended up on Bite Squad's delivery route.
The food, which arrives in well-marked cardboard containers, is essentially "people food," General Manager Kelli Holloway says. She came up with the idea because her standard poodle Nala was raised on homemade meals, with blueberries for snacks. Should Nala expect anything less when she dines out?
"My dad would say, 'how would you like to eat the same thing every day?'" she said in reference to the popular dinner option of dry dog food. Most dogs don't have the large families that used to support farm dogs with scraps from the table, so if a dog is to eat like a farm dog, his or her owner needs to stay in the kitchen.
But wait. Wasn't delivery invented so cooks could get out of the kitchen? If you're cooking your dog's meal every day along with your own, having your dog's meal delivered, too, doesn't sound like such an extravagance, does it?
In the three-and-a-half years they've had dog food on the menu, Stanley's has sold 20,000 meals, said Luke Derheim, who does operations for Craft & Crew, the parent company of Stanley's.
Most inhouse diners order three courses for their canine companion: a bone, entrée and dessert, he says. He and the company's COO David Benowitz are planning on opening another bar/restaurant with a dog-friendly menu in St. Louis Park, near a doggy daycare facility. Patios are covered and heated so they can be used during the colder months.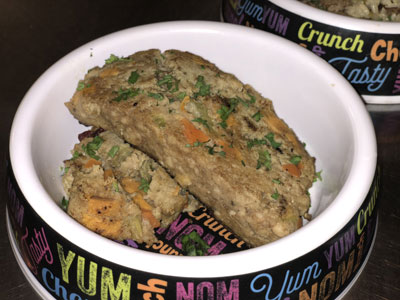 The delivery menu is smaller than the inhouse dining menu, with three entrées, ranging in price from $6 to $8, plus a chewy smoked pig's ear ($3) and two sizes of frozen smoked beef-marrow bones ($4). Dogs have to show up in person for the "Pooched" egg brunch bowl and Izzy's dairy-free Peanut Butter Banana Pupcream sundae. Izzy's, a local ice cream company, makes the treat with coconut milk, and humans can enjoy it as well. Entrées consist of ground meat, rice and cooked vegetables. For pet owners with a cat, there's the salmon cakes option.
Stanley's typically sells around 10 to 12 dog meals a week via Bite Squad in the summer, with that number dropping off a bit in the winter, Derheim said.
To test it out, we ordered our lunch and a lunch for our coworker's dog, since we sadly are not current dog owners. Here's how the costs broke down: Human lunch $18; dog's $12 (we couldn't not buy a pig's ear); booking fee $4.99; sales tax, $2.81; other taxes and fee service (no tip required) $5.67—for a total of $45.77. Since we weren't sure the driver received a tip, we added an additional $5. The prices are the same on the delivery menu and the eat-in menu.
The Bite Squad driver admitted that he didn't treat the dog and people foods any differently because he wasn't aware that he had dog food. Both meals were packed in cardboard containers, very well marked. But it's probably not a big deal if I had eaten the dog's meal instead of my own. People order dog food for themselves, Halloway said, which is why there's no special accommodations that have to be made in the kitchen.
We though this might be a little out there, until we went online and saw that there's now a "Blue Apron" for dog meals, Nom Nom Now. Customers can order a particular recipe that's prepared fresh (the website showed all the ingredients portioned out in measuring cups) and then packaged for portion control. A weekly meal plan of 14 meals (4 lbs of food for an 18-lb dog) is $36.27 or if you choose the every two weeks option of 28 meals (9 lbs) it's $28.38 a week.
There's also similar fresh-food delivery from PetPlate and Ollie. For a 55-lb. dog PetPlate runs about $9.59 a day; while Ollie is $8.04.
Pictures of the food online all look like dog food, while Stanley's meals look like people food (in case that's of interest to your dog).