Whether it's headlines, grocery store receipts or your bank account, it's hard to avoid noticing inflation in the United States has increased, reaching a 13-year-high in July. Personal experience has shown that includes meal delivery, too, as third-party providers remain under pressure to become profitable and restaurants struggle under the weight of an 18-month-long pandemic and labor shortage.
The Food On Demand team set out to find how much more expensive delivered meals are compared to dining in at five independent restaurants near our office outside of downtown Minneapolis.
Everyone chose a different restaurant and delivery service, we all tipped 20 percent or similar on platforms that provided suggested dollar amounts, and we all placed our orders at the exact same time: 11:30 a.m. Then, while (almost all of us) ate lunch together—a rarer occasion than it used to be—we photographed, took notes, did actual math and discussed whether the cost of our lunchtime meals gave us the spins or left us feeling fully satisfied.
Because restaurants are able to set their own pricing on some delivery services to offset the cost of commissions, and some delivery providers add so-called regulatory response fees in certain cities due to municipal fee caps and other regulations, it's difficult to calculate how much the cost of delivery is inflated on one delivery service versus another. Even so, we plugged each of our lunch orders into competing delivery providers to also examine cost differences between platforms.
With those caveats in mind, we were rather shocked by the delivery inflation—the total cost of delivery compared to the total cost of dining in. At the high end, ordering from the Holy Land restaurant on Uber Eats was a stout 53.8 percent higher than eating inside the restaurant. At the opposite end of the spectrum, ordering from Hong Kong Noodle on Chowbus was just over 19 percent higher than the total dine-in cost.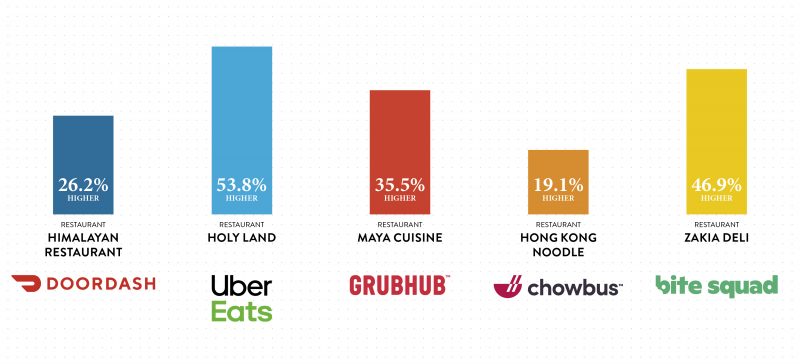 Of course, delivery is always an adventure, so our findings weren't confined to the financial realm. Read on for the entire journey, financial and otherwise.
Emili
Delivery service: DoorDash
Restaurant: Himalayan Restaurant
Delivery cost: $35.15
Dine-in cost: $27.86
Delivery inflation: 26.2%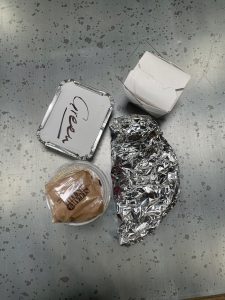 I ordered Creamy Kathmandu Curry ($14.95), garlic naan ($3.95), and Himalayan coffee ($2.95). In-store the curry costs a dollar less—but the naan and coffee are the same. The food came out to $21.85 (pretty good for an entrée, side and drink), but then came the fees. DoorDash bragged free delivery for this order, but they charged a "regulatory response fee" of $1.50 and a "service fee" of $3.28, tax came out to $1.52 and I tipped $7. The order came out to $35.15. As a first time DoorDash customer, they waived the $5.99 order fee.
Timing was a little tough. I was aware that the estimated 13-minute drive from Himalayan Restaurant in south Minneapolis to our office in Northeast could mean a forty-five-minute difference between the time I ordered to the time I received my meal. My coworkers put in their orders at 11:30, planning a 30-minute delivery time, and we'd all compare at noon—so I submitted my order at 11:10. My driver arrived at the restaurant in ten minutes, but my order wasn't ready so he left after waiting in the parking lot for 10 minutes.
It took forty minutes for another driver to come and pick up my order and drive it my way. I received my order at 12:25. The restaurant didn't open until 11, so I was a tad ambitious thinking that the employees would be completely ready to turn around and have my curry, naan and drink at my beck and call.
All in all, the experience wasn't terrible, the food was delicious. DoorDash gave me a forty-minute delivery estimate, which came out to be an hour and fifteen minutes. They thanked me for my patience, but didn't comp a cent off my that probably costs at least $10 more than what I would have paid if I had picked up the food myself.
For what it's worth, Himalayan Restaurant was also available on Bite Squad, for only a marginally smaller price.
DoorDash: The Verdict
My restaurant and DoorDash let me down on timing, but the food was delicious, timing be damned.
Jared
Delivery service: Uber Eats
Restaurant: Holy Land
Delivery cost: $32.81
Dine-in cost: $21.34
Delivery inflation: 53.8%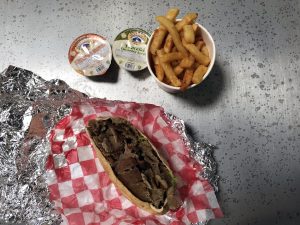 Ordering from a 3PD is nothing new for me as I have used multiple delivery apps many times over the last couple years. I don't often worry about the cost, as I typically order for the convenience of it and try to accommodate for the preferences of my whole family. This time, however, it was just me. I was using Uber Eats and looking for a good lunch option. The first thing I noticed is that the majority of the options that I found were QSR and I was looking for something different, something I am not going to order when my kids are on the ticket. I chose a local restaurant specializing in Mediterranean cuisine called Holy Land, a well known independent I hadn't tried before.
It was an easy sell. The recommended option was the Gyro Sandwich, so I added a side of fries. It took only about 35 minutes, which was about 5 minutes ahead of the scheduled time, and everything was accurate. I was also impressed that Uber Eats provided me with a 4-digit security PIN when I ordered, presumably to ensure that it was in fact my food and not a hungry coworker jumping on a free gyro. That is something I haven't experienced with other delivery apps, and I felt it was a good measure to add.
While I hadn't ordered from Holy Land before, the price did surprise me. Included in the cost was a service fee, a temporary local fee, and a delivery fee for a total of $7.49 in fees. Add to that a 20 percent ($5.30) driver tip and my all-in price was $32.81. If I were to jump in the truck and make the drive for a dine-in experience, that same meal would have been $21.34 with the same percentage tip.
Holy Land is available on all other delivery platforms in the test, except Chowbus, with Grubhub being the most affordable at a total price of $27.16.
Uber Eats: The Verdict
The extra cost for not leaving my desk to enjoy the delicious gyro was $11.47. That's a little steep and more than I would regularly pay for just myself. When I am ordering four meals for the family with a much larger bill, that better justifies the fee structure.  I probably will continue to make the drive over my lunch break and reserve Uber Eats for the family dinners.
Arthur
Delivery service: Grubhub
Restaurant: Maya Cuisine
Delivery cost: $25.46
Dine-in cost: $18.39
Delivery inflation: 35.5%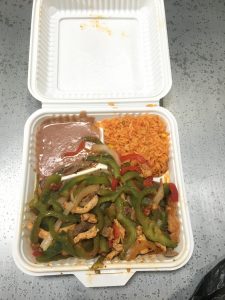 By the time I realized Raising Cane's wasn't on Grubhub, it was too late. It's a DoorDash exclusive, and the DoorDash order had already been placed.
Defeated, I sorted Mexican restaurants by rating. I've had a few bad experiences with non-punctual delivery, so I made sure to pick a restaurant with a 100 percent "on-time" rating. Maya Cuisine, the fourth-highest-rated Mexican restaurant in my delivery radius, was my choice. For what it's worth, the chicken fajitas were on time and delicious. I forgot all about Raising Cane's.
The food cost was $14, but the total was $25.46, including tip ($4.24), service fee ($2.66), delivery fee ($2.99) and tax ($1.57). Interestingly, the 20 percent tip was assessed against the total, including tax, delivery fee and service fee, while the 19 percent service fee, which goes directly to Grubhub, was only assessed against the cost of the food. Maya is also on DoorDash, but the price was almost exactly what I paid on Grub.
In-person, with the same percent tip, my meal would cost $18.39, meaning the total cost of delivery was $7.07. I'm not a big delivery guy and this test confirms why.
Grubhub: The Verdict
I don't mind driving to a restaurant. And paying $7.07 for the privilege of staying at my desk is a tough sell.
Nick
Delivery service: Chowbus
Restaurant: Hong Kong Noodle
Delivery cost: $35.27
Dine-in cost: $29.61
Delivery inflation: 19.1%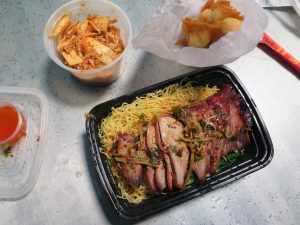 Chowbus was not exactly the lovely lo mein lunch I had in mind. The app and website for the Asian food delivery company were both far from intuitive. I'm no Luddite, but it somehow timed out several times, sucked me into a Kafkaesque phone verification loop and then ate my first-order promotion because it executed my order not once but four times. It also pinged my card four times for verification.
I had to call the restaurant to ensure only one order actually went through. This is not the seamless ordering experience one would expect after from a company with nearly $70 million in funding and seven years of operations—but it gets worse!
I started ordering at the same time as my colleagues, 11:30 a.m. The order went through at 11:45 after the app shenanigans. I was so looking forward to the Hong Kong Lo Mein from Hong Kong Noodles, a lovely little restaurant known for absurdly fast preparation.
Alas, before my food arrived, my workmates got their food, ate their food and two of them even came over to inquire about my wellbeing. It was 1:10 when my food finally arrived. I was hangry; the food was cold because it sat at the restaurant for almost an hour.
I asked the delivery driver if he knew how many were driving at the time, he said three. Staffing just three drivers for a metropolitan area of more than 3.5 million people at the lunch hour is absurd. Maybe if you can't keep more than a million-to-one ratio of population to drivers, you should stop operating in that market. Somehow the competition has figured it out.
Hong Kong Noodle is also on Grubhub, DoorDash and Uber Eats, all approximately $5-$7 more than I paid on Chowbus.
Anyway, the price parity with the restaurant—the single metric for this test—was great. It was just $4.60 more than it was in the restaurant (a $1.60 fee and a $2.99 delivery fee). In all, the cold noodles and gummy wontons came to $35.27 with a 20 percent tip.
The convenience premium would have been a non-issue if it were at all convenient, but next time, I'll spend $5 to park and eat instead.
Chowbus: The Verdict
$4.60 was no problem, slow delivery and cold food is.
Tom
Restaurant: Zakia Deli
Delivery Service: Bite Squad
Delivery Cost: $24.34
Dine-In Cost: $16.57
Delivery Inflation: 46.9%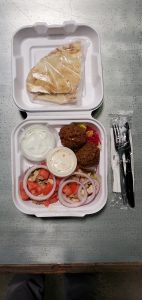 As somebody who usually grinds through allegedly healthy vegetarian frozen meals at work, ordering a Chicken Gyro Plate from Zakia Deli on Bite Squad was a nice change of pace. It was the 15th choice presented on a list of mostly local independent restaurants, which is more appetizing to me than a laundry list of QSR brands I tend to see on the other delivery apps.
The Gyro Plate was the top recommended entree and, because the restaurant is less than 3 miles away, the quoted delivery time was just 12:15 pm when I ordered at 11:35 am—not bad at all. I chose my protein (chicken), sauce (original tahini), bread (pita) and sides (cucumber & luban, falafel with tahini and veggies) for a grand total of $24.34. That included a $3.99 booking fee, $5.36 in taxes and fees and a $4 tip.
To order that meal inside the restaurant with the same tip would have been $16.57, meaning the total cost of delivery was only $7.77. That felt entirely reasonable. I'm not ordering delivery for lunch every day, but this was much less delivery sticker shock than any other delivery order I've placed in recent months.
I was notified at 12:02 that my driver, Colin, was nearby—and my food was in hand at 12:05, 10 minutes earlier than the initially quoted time. The driver was fast and friendly, the food arrived as expected and in good condition, and I had a lovely meal with no microwave required.
Zakia Deli is on Grubhub, DoorDash and Uber Eats, with Grubhub coming in slightly more affordable than Bite Squad at $19.97.
Bite Squad: The Verdict
Paying $7.77 for the convenience of delivery, even at just 30 minutes, is outside of my daily comfort zone when we're talking about a work lunch.