The term "self delivery"—which, of course, means customer pickup—never fails to solicit a laugh here at FOD, but nothing's funny for restaurants looking to convert delivery customers to takeout customers willing to grab their meals in person. To evaluate the changing takeout landscape, we chose a handful of nearby chain restaurants to order soup and whatever else on a cold winter's day. Results ranged from fantastic to "what the hell"?
Aside from including soup in the order, we were instructed to order directly from the restaurant's website or app. We evaluated the ease of ordering, wayfinding within the restaurant, how long it took to collect our orders once inside the store and where we had to go to collect our food—while, hopefully, avoiding lunchtime crowds at the door. Here's our results: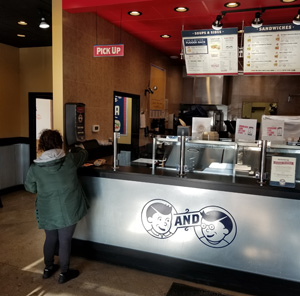 Tom: Erbert & Gerbert's
I've wanted to try pickup at Erbert & Gerbert's ever since they axed our (very close) office from their delivery radius. Things looked promising after opening the Erbs & Gerbs app, as I loved the bright colors and appealing food pics, but things quickly went downhill. Clicking the "order" button resulted in a blank screen with "/orderapp" as the only text. What? The page loaded after a full minute, so I plugged in my chicken wild rice soup, but the blank screen returned several times when trying to add a sandwich. I clicked reload, closed the app and started over, and a few other tricks as my blood pressure rose. There are clearly several errors with this app, and I kept wondering whether items were successfully being added to my "bag" or if I was sending a new order every time I pecked at the screen like an angry peacock. Uncertainty is the mother of insanity, and I would have given up if this wasn't a test for work.
With the order finally confirmed, and a quoted prep time of 10 minutes, I hit the road. Walking in during the lunch hour, there were no lines. I immediately spotted my bagged-up order under the "Pickup" sign hanging from the ceiling. Somebody said "thank you" as I grabbed it and walked out the door—perfect. Back at the office, my soup was steamy and my sandwich was crunchy. Getting good food in less than a minute with minimal human interaction is the gold standard, but Erbs & Gerbs needs a new app, stat.
Total cost w/tip: $13.38
Grade: C-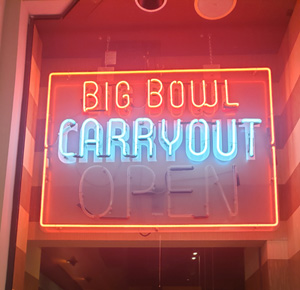 Callie: Big Bowl
I've been in love with Big Bowl's food since receiving a gift card last Christmas. Who can resist pad Thai? I had never tried their carryout option, but online ordering was a breeze with quick buttons for choosing carryout or delivery. I was redirected to ChowNow, Big Bowl's online ordering system. I appreciated their separate tabs for vegetarian options and chose the veggie wonton soup and potstickers. Immediately after placing my order, I received two emails – one from Big Bowl with my receipt and one from ChowNow's CEO Chris Webb, thanking me for ordering. The email also informed me that most third-party online ordering companies take a hefty percentage from each order, whereas with ChowNow, all proceeds go directly to the restaurant. Interesting. Two minutes later, I received another email from Big Bowl with a quoted prep time of 20 minutes. Receiving three emails is honestly a bit much.
Eager for some hot food and their fantastic ginger soy dipping sauce, I jumped in the car and headed to the mall about 10 minutes away. Right away, I noticed the giant carryout sign in red and blue and stepped over to the counter with no line, impressive during the lunch rush. Arriving about two minutes past their quoted time, I could see my order ready to go in a paper bag, but it was just out of reach. After about a minute, an employee walked over and handed me the bag. Making sure all my food was there plus utensils, I rushed back to the office to chow down.
There weren't any spills when I took the soup out of the bag, courtesy of the secure recyclable plastic container plus an extra plastic bag tied around it. After taking my first bite, I was disappointed to find the soup lukewarm and the potstickers cold. After popping each in the microwave for 30 seconds, the potstickers were tasty but a bit soggy. For a large soup, the majority of the container was broth—I think there were more noodles when I ordered a small during my last dine-in experience. Big Bowl, I still love you, but for a $20 lunch, I expect my food to be hot after a 10-minute drive.
Total cost w/tip: $22.80
Grade: B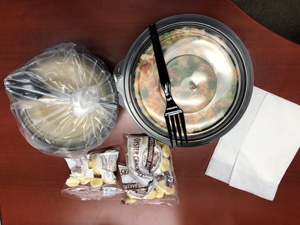 Jared: Noodles & Co.
I ordered the Thai chicken soup and mac  cheese from Noodles & Company. I placed the order via the Noodles website at 11:55 a.m. It was very easy to navigate and complete the order. I simply created a profile with name, email and phone, paid by card and received a confirmation email. It stated that the order would be ready in eight to 13 minutes. I arrived at the location in a strip mall at 12:14, and wished there was dedicated to-go parking. That said, I walked into the store and my order, along with a half-dozen more, was on the counter with a receipt and my name on it. It took all of 20 second to park, walk into the restaurant and receive my food—very convenient.
The only downside was the parking, because it was a cold, sloppy Minnesota afternoon and it would have been nice to skip trekking across a huge lot. Back at the office, my lunch was in separate plastic bowls, and a fork, spoon and napkins were included. The mac n cheese and soup were warm and similar to how I would expect when eating in the restaurant. I actually needed to cool the soup before eating it. I will definitely consider ordering takeout from Noodles & Co again.
Total cost w/tip: $17.45
Grade: A-
Laura: Panera Bread
Ordering through the Panera app is as simple as it gets. Choose Rapid Pick-Up, Delivery or Order From My Table (for a certain type of laziness). Select a nearby café and choose "ASAP," which says means your order will be ready about 10 minutes after checkout, or pick a time. I chose 12:30 p.m., about 35 minutes from the time I was ordering.
The menu is easy to navigate, and after I ordered a bowl of Vegetarian Autumn Squash Soup, I was prompted to add a drink, perhaps a Passion Papaya Green Tea or Agave Lemonade. While I declined a drink, I'm sure the prompt helps boost ticket averages. I did have to navigate back to the main menu to then choose a salad, the Fuji Apple Salad with Chicken, customized to go light on the red onions. Again, it is easy to make modifications. The total food order came it $15.98 ($17.16 after tax)—but hey, no delivery fee!
I received one email confirming the order and that was the extent of Panera's communication.
I arrived at the restaurant 5 minutes late and, after making my way to the back of the store—no "Rapid Pick-up" signage visible from the front entrance—I was greeted by an empty shelf. Just a couple of minutes later, though, an employee called out "L. Michaels!" and waved a paper bag from the counter.
Without being asked for an order number or in any way to confirm my identity, I took the bag and was on my way, which leads to my big question: How are they preventing people from stealing orders or, more likely, simply walking off with the wrong order? Going by the honor system doesn't seem super reliable. And if my order had just been sitting on the shelf? Anyone could have walked off with it. But hey, it was fast, so I shouldn't complain too much.
Ten minutes later I was dipping my spoon into delicious squash and pumpkin soup that was still surprisingly hot. The wax-coated container specifically said it wasn't meant to be reheated; good for me, but I'm guessing bad for the environment as there was no symbol indicating it was recyclable. Two sets of plastic utensils accompanied the order, another environmental ding. I've ordered through other channels where I had the option to decline plastic utensils.
While the pick-up experience wasn't entirely seamless, ordering via the app was easy, I was able to get my food faster, save what would have been a $3 delivery fee and the food quality and temperature were near perfect.
Total cost: $17.16
Grade: A-