As the restaurant industry pivots as quickly as it can to off-premises channels, Food On Demand reporters Nick Upton, Laura Michaels, Tom Kaiser and Callie Evergreen checked out the curbside pickup options of four traditionally full-service brands, Red Robin, Applebee's, Chili's and TGI Fridays, and reported back on the experiences. Our results varied, of course, but there's always room for improvement.
Please note, this test was conducted in cooperation with our sister publication Franchise Times.
Red Robin was ready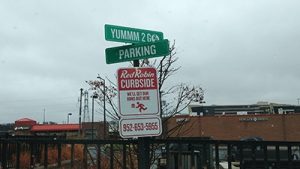 Red Robin smartly began investing in its off-premises channels a few years ago, bolstering its online ordering platform and partnering with third-party delivery services to meet consumer demand. But, as the brand noted back in 2018, the most profitable transaction is when guests order online and pick up their food in the restaurant, which saves on front-of-the-house labor and skips the commission charge normally paid to the delivery service.
Red Robin should be well-suited, then to adapt to the operational changes being wrought by the COVID-19 virus, as full-service restaurants are forced to pivot to takeout and delivery—if they're staying open at all.
The online ordering at Red Robin, for all its focus on off-premises channels, is still a little clunky at the local level, and when I searched for the suburban Minneapolis restaurant nearest me it wasn't clear if that location even offered curbside pickup. This is where local restaurant landing pages, clearly updated with the latest information, come in handy. Franchisee-owned restaurants should also make a point to update their social media pages with the latest ordering information.
After navigating to the right page, I was eventually able to start building my order—a Master cheeseburger with zucchini fries for me and a Cowboy Ranch Tavern Double burger for my husband—and select curbside pickup at a specified time. From there, it was mostly smooth sailing.
A confirmation of the order directed me to "Please call phone number on sign upon arrival." When I later pulled into the lone marked parking space at 5:56 p.m., I chuckled at the message that accompanied the phone number on the sign: "We'll get our buns out here." A pleasant-sounding employee answered and said she'd be right out with my order. Ten-plus minutes later, I was still waiting but hopeful the delay meant my food wasn't just sitting under a heat lamp but being timed for maximum freshness.
I was not disappointed. Even after a 20-minute car ride back home, our food was still in great shape, thanks largely to Red Robin's investment in vented packaging (pictured above). We admittedly did stick the fries in the microwave, but the burgers were tasty and held up well to travel.
Though the ordering function smartly prompts users to add beverages such as shareable iced teas and lemonades or even a smoothie, we opted to save a few bucks. After tax and tip—but without any delivery fee—my order total was $27.38. —LM
Applebee's gets it right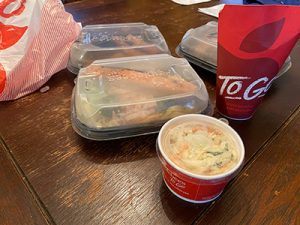 The weirdness of these COVID-19 days necessitates a little comfort food. OK, a lot. And after the pandemic snacks are gone, there's not much more comforting than some chicken tenders and mozzarella sticks. And someone handing them through the car window was about as close as I wanted to get to anyone right now.
Applebee's made it really simple to order curbside. Having launched the program way back in 2010, it was well integrated in the ordering process. I opted to use the app because first-time diners get $5 off, a nice perk that means more loyalty customers for the company.
I picked "Curbside" as my order type, and was given a list of nearby restaurants. The closest two, however, didn't have the option, so I had to take a little drive during the middle of what used to be rush hour.
There were several parking spots marked for curbside pickup. I simply responded "here" to the automated text message that I opted for (customers can click a link in their app, too), and in about three minutes a smiley manager came out with my order, sealed in a bag with nice, vented packaging, utensils and my fries in a little cardboard tube so they stayed crispy.
The manager said it's been awfully slow, and at 5:30 p.m. on a Thursday they only had four people working, a legally mandated empty dining room and just a few orders for pickup and delivery so far.
The real test was how the packaging did on my drive home. At least rush hour wasn't what it was last week. When I arrived home and laid the meals out, they were still warm, the fries were passably crispy and the mozzarella sticks were perfect, salty little cheese bombs. The chicken tenders were still crispy and delicious. The only oddity was the honey mustard. It was placed inside the tender box and had a layer of moisture on top of the lid, but after a 20-minute drive in a hot container, that's a minor issue.
Overall it was a very good experience. Applebee's and a few other mass-market casual diners are well positioned for socially distanced orders because of their early investment in off-premises operations like this.
My and my wife's only want in the whole experience would be getting a jug of Applebee's $1 cocktails—to consume once we got home, of course. —NU
Chili's makes it simple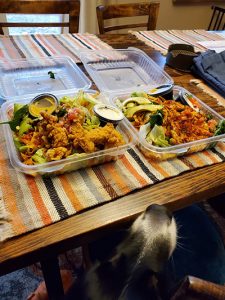 Looking to try a national brand with curbside experience, I went with Chili's. As it was my first time trying their curbside service, I downloaded the Chili's app, picked my closest location, and was able to quickly order a salad-based lunch for two. My better half chose the Santa Fe Chicken Salad, while I was less healthy with the fried Santa Fe Crisper Salad. I immediately received a text telling me my order would be ready in 20 minutes, at 12:10 p.m., with instructions to pull into a dedicated curbside pickup parking spot and then reply to the text with "Here." Exactly on time, I parked behind another waiting car outside of what appeared to be a curbside entrance, as I didn't see any dedicated spots. I guessed correctly, as somebody immediately popped outside into the rain to hand off a plastic bag with two salads. Since I didn't require any utensils, it was just two salads in clear clamshell plastic containers, and everything looked good to go. Back home, after ditching the bag and sanitizing the containers, the chicken was still warm and the veggies were still cool and crispy. The two-dressing combo made for an unexpectedly delicious lunch that didn't require diving into our chest freezer, boiling pasta or getting even more creative.
Looking at the bill, the salads were each $11.79, which was fair for the quantity, with less than $2 bucks for tax and $5 in gratuity, for a total of $30.32. Not bad for a delicious meal in the midst of a pandemic, and I appreciated getting out of the house.
After a very frustrating experience trying and failing to order a similar lunch from my nearest Applebee's—where the website kept kicking me back to a page where I couldn't select a location—I was pleased with the simplicity and speed of the Chili's curbside experience. —TK
TGI Fridays needs a little improvement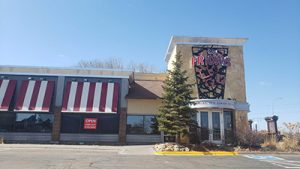 Placing a to-go order online at TGI Fridays wasn't as seamless of an experience as one would hope. There was no spot to leave a tip when paying online. I also didn't see a specified option for curbside pickup. When I called the restaurant and asked, an employee told me that I could just park in a spot up front and call the restaurant to have someone run out my order.
After choosing a Beyond Meat cheeseburger and driving to a Minneapolis area location, I pulled into an empty parking lot (pictured above) and chose the first spot in the front. After I called to tell the staff I had arrived, an employee ran the order out within two minutes, handing me a large bag and wearing a smile but no gloves.
My plant-based patty was delicious and still warm after the 15-minute drive home. The Fridays sauce got a little messy, and some of the toppings started to slide around, but that's to be expected. The seasoned fries were room temperature by the time I got home, but 30 seconds in the microwave made them bearable. My lemonade was watered down, most likely a combination of the actual mixture and the vast amount of ice in the cup. A straw and ketchup packets came in the bag, with no utensils or napkins.
Overall, my experience with curbside pickup at TGI Fridays was quick and pretty painless. Their online ordering system worked without a hitch, though a button for curbside pickup and tipping would be a nice touch, along with directions on what to do when you get there. They could also add pickup-specified parking spots and have their staff members wear gloves when they run out orders, not only during this pandemic but also to minimize the spread of germs at all times. The staff members were all extremely friendly and the burger was great, but a couple improvements could go a long way. —CE