Years after delivery has dominated the conversation, restaurants are once again getting creative with non-traditional real estate opportunities, including partnering with unaffiliated brands to unlock new territories and rope in the best attributes of ghost kitchens and virtual restaurants: incremental sales without significant capital expenditures.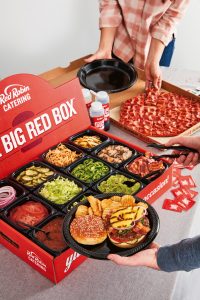 Following in the footsteps of BBQ Holdings, which doubled down on dual-concept locations with brands outside its corporate umbrella, Red Robin brought a slimmed-down version of the Donatos Pizza menu into its kitchens as a way to expand its delivery and dine-in offerings before the pandemic. Now, a year and a half later as dining rooms repopulate, the partnership is proving successful enough that the companies are scaling up even as Red Robin rolls out three new virtual restaurant concepts.
Jonathan Muhtar, Red Robin's executive vice president and chief concept officer, said the Colorado-based franchise originally wanted to bring pizza into its restaurants, which internal research showed was an offering its guests were interested in and would resonate with its mission of offering mainstream favorites to bring people together. Since pizza is one of the most delivery-friendly cuisines, it also dovetailed with the company's goal of increasing off-premises volumes which, in 2017, were only 5 percent of total sales.
Red Robin considered developing its own pizza, of course, but Muhtar said operational complexity was a prime consideration that led the executive team to look outside of its headquarters for partnerships that could make it easy to add pizza to the menu without overburdening its kitchens or confusing customers.
That search ultimately led the team to Donatos, a mid-size pizza franchise based in Columbus, Ohio, known for its careful sourcing of ingredients. Beyond product quality, Red Robin found the operational ease of cooking its pizzas and its company culture to be a perfect fit, and felt its customers would respond to the partnership given that Red Robin was known for upscale burgers and chicken sandwiches, among others, not for making great pizza.
"In some ways, it's even easier than making burgers for our kitchens and for our team members in our restaurants," Muhtar said. "Pizza fits really well as a product that's shareable … and to drive some incremental occasions to visit Red Robin more frequently, and that's exactly what has panned out."
Right before the pandemic began, Red Robin's off-premises sales were approximately 13-14 percent of total sales. Now, with dining room capacity restored to 100 percent, that number is averaging north of 30 percent with pizza contributing a sizable portion. At this point, 7.6 percent of off-premises transactions include both pizza and Red Robin's traditional menu items.
Many dine-in guests order pizzas as an appetizer, and Muhtar said Red Robin locations with Donatos Pizza on the menu are performing about 300 basis points better on year-over-year sales than non-Donatos restaurants. By the time the partnership is fully rolled out across the Red Robin system in late 2022, the partnership is projected to generate more than $60 million in revenue and more than $25 million in profits for the company.
Muhtar said those numbers exceed their initial projections, even as the ground has shifted due to the pandemic and also as Red Robin rolled out its own, homegrown virtual restaurant concepts, Chicken Sammy's, The Wing Dept. and Fresh Set. Those virtual restaurants are also operating out of the 80 restaurants that are also cooking Donatos Pizza.
"The principles that we followed around operational complexity…for Donatos were the same ones that we have followed for our virtual brands," he added. "We've been very careful in selecting those menu items to make sure we weren't adding time to our speed of service or complexity with those virtual brands."
Growing volumes and distribution
On the Donatos side of the fence, CEO Tom Krouse said he'd be lying "if I didn't say after more than a year of numerous impactful changes in the marketplaces, we may get a little tired every now and then" even though this past year has been a long home run for almost every brand in the pizza space. He said it would be naive to expect another year of "double-digit sales on top of double-digit sales" but every indication suggests pizza remains well positioned even as the pandemic becomes more of a nuisance than a full-blown catastrophe.
While he and his leadership team explored the Red Robin idea and learned about their culture, he said "you could have changed the Donatos logo" due to the number of similarities. Beyond culture, he said Donatos' $1.2 million average unit volumes and its uncompromising focus on its ingredient sourcing meant that this deal wasn't just an opportunity to add volume, but also a once-in-a-blue-moon opportunity to bolster its supply chain to expand the reach of a brand that's primarily located within the eastern third of the country.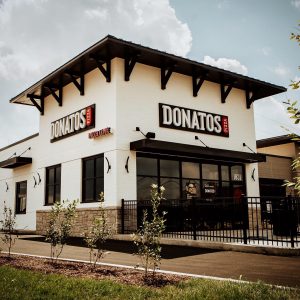 "You have to have distribution lines that are able to support a regional expansion, and so by having Red Robin…stronger on the West Coast, we're stronger east of the Mississippi, it allows us to expand our distribution from six distribution centers in the east to 27 distribution centers across the country, so we're now able to franchise across the entire U.S. where we weren't able to before, it just wasn't economically feasible," Krouse said.
After testing Donatos within a number of Red Robin locations for several months, they found that Red Robin kitchens were able to deliver the same high-quality pizza experience. Now that they're already in 80 locations, Krouse said they expect to reach 120 Red Robin locations by the end of the year, which means that the partnership "will nearly quadruple the size of our footprint as a company in a matter of just a few years."
Krouse and Muhtar said the two companies haven't had any discussions about a formal affiliation between the two brands. Krouse likened the deal to a licensing or "quasi-franchising" relationship where Red Robin pays a fee based on pizza sales, which also includes Red Robin securing exclusive rights in certain states and Donatos having some requirements for marketing "to make sure our brand is being communicated properly and at the right level" that he said were key features of the arrangement. Donatos is contractually prohibited from signing a similar deal with any of Red Robin's competitors.
After seeing such success in Red Robin locations, Krouse said Donatos is exploring other non-traditional real estate opportunities on military bases, educational institutions, travel centers and other locations where a slimmed-down menu and smaller footprint could work, once again, playing off of that operational simplicity that has been honed through the partnership.
"The technology I'd like is a heat-seeking satellite," he added. "Wherever it shows humans, I assume they all want pizza. We just need to plop our kitchen right wherever they are."