Agápe Automation's tagline is "automate with love," said Chief Operating Officer Craig Turner, and the company is looking to do just that at Donatos Pizza by putting technology to work in new ways.
"It really speaks to our intention of making the kitchen a better place and the job a better job," said Turner of innovation meant to reallocate repetitive and often mundane tasks to machines and allow Donatos store employees to focus on functions that benefit from the human element.
Enter the Smart Saucer. With a footprint "about the size of a shoebox," the machine draws sauce from a reservoir and dispenses it precisely onto a pizza crust underneath. A calibration component gauges the weight "to get a completely consistent amount of sauce," said Turner. Introduced in May 2020, the Smart Saucer is operating in 15 Donatos restaurants, 11 corporate and four franchises.
"The dream of course is to support our No. 1 customer in Donatos and then to expand the technology capabilities in other locations," continued Turner. Donatos plans to bring the Smart Saucer to its 40 other company restaurants next year while giving franchisees the option to add it to their kitchens. The company is working to determine the true cost of the equipment for operators as it scales the program.
"We put a lot of thought into how we're value-engineering our products to make sure they're affordable," Turner said.
Donatos has 171 total restaurants in Ohio, Indiana, Kentucky, West Virginia, Virginia, South Carolina, Alabama, Tennessee, Georgia, Pennsylvania and Florida. Ranked No. 225 on the Franchise Times Top 500, it had systemwide sales of $261.5 million in 2021.
"I think everybody is really excited about it," said Dave Parsons, communications manager at Donatos. "It's one of those tasks where it's very necessary for the product," but workers "are more excited to do other things." In addition to product consistency, Donatos has been able to speed up its training of new store employees "because associates don't need to train on sauce, but can train more on toppings or on other customer-facing roles. "The focus is, how can we put people in better spots."
Like Donatos, Agápe Automation is one of the Grote family's companies, and its development of the Smart Saucer isn't without precedent. Jim Grote, who founded Donatos Pizza in 1963 in Columbus, Ohio, spent years applying pepperoni to pizzas by hand and knew there had to be a better way, recounted Turner. Grote invented and patented the Peppamatic, which was the catalyst for his launch of the Grote Company in 1972 and today is the industry-standard inline pepperoni slicer in frozen pizza manufacturing.
While the Grote Company's focus is industrial-level frozen pizza and sandwich equipment, Agápe Automation is intent on making the restaurant kitchen a better kitchen, said Turner.  It's one of a handful of businesses at another Grote family endeavor, the Edge Innovation Hub, which opened in late 2018 and serves as an incubator and supporter of companies looking to disrupt the food industry.
"Jim had this vision of creating his own innovation campus for decades," said Turner, who also serves as executive director of the Edge Innovation Hub. After Grote took courses at Singularity University in California, where Turner said "they're working on some wild things that might seem like science fiction now but won't before too long," he was inspired to finally "take this leap."
A 17,000-square-foot facility located in the Columbus suburb of Gahanna and part of the same campus that's home to Donatos and Grote Company, the Edge Innovation Hub's resident businesses include Agápe Automation, 3D food printing and robotics company BeeHex, food business consultancy CIFT, and Form5 Prosthetics, a maker of 3D printed prosthetics.
"The purpose was really centered around the idea of the future of food and how innovation could help Jim's companies," said Turner. "The idea of the future is coming faster, with exponential technologies coming every day. How do we stay on the front edge of that innovation?"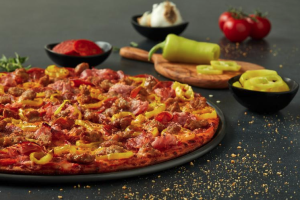 The Smart Saucer originated from Grote's belief that a tabletop machine capable of dispensing sauce could have a meaningful impact on labor and efficiency in pizza restaurant kitchens. He later found Hayden Frea, at the time a high school student and now majoring in computer science and mechanical engineering at Ohio State University. The two "started talking about ideas, and with a little inspiration from the Grote Company" created the first prototype, said Turner.
Agápe Automation and its engineers, with Frea as a software engineering consultant, are working on similar applications of the technology "around pepperoni, around cheese, around cutting" of dough, said Turner. "Expanding automation capabilities in the restaurant space is an exciting proposition" and a "serious contender to alleviate the labor challenges."
So, too, is the opportunity to connect the machines, collect data and ultimately deliver actionable information to operators.
"The sky's the limit for the idea of smart machines and smart software," said Turner.