As the parent company of Famous Dave's gradually transitions away from table service and large-format restaurants, BBQ Holdings is distilling what it's learned from years of delivery-focused experiments to come out of the pandemic swinging as it shifts into growth mode.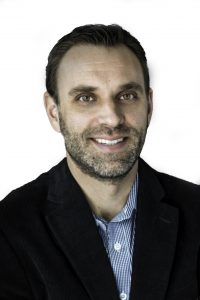 The Minnesota-based multi-brand restaurant company spent years in the turnaround wringer, including high-profile stores closures, executive departures and the ouster and return of its founder, Dave Anderson, before board member Jeff Crivello took over the reins as CEO three years ago. Throughout that time, the company was spending significant time and resources testing everything from lunch-focused concepts to restaurants with drive-thru lanes, urban formats, a chicken-sandwich delivery concept, along with refreshed bar programs and menus for its core brands of Famous Dave's and Granite City.
With their experimentation's strong focus on delivery and takeout, Crivello and company see the second half of 2021 as what they've been working toward, even though getting there has been nothing like anyone in the restaurant industry expected.
After many years, rebirth
"If anyone wanted to survive through this, that's what was required," Crivello said of the effort from both from his executive team as well as servers and managers that helped test and refine various formats, menu items and delivery operations. "First was to consolidate, second was to fix what we had and make a large capex investment in refreshes, and third was to develop a more efficient business model. Barbecue is very difficult to execute and it's very protein heavy, so it's very expensive."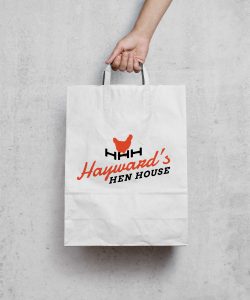 Under the cover of the pandemic's early days, BBQ Holdings bought Chicago-based Real Urban BBQ. Crivello said it was a key acquisition that gave him and his leadership team operational knowhow needed to refresh its flagship brand, Famous Dave's, which originally built its reputation as a sitdown restaurant. Of course, that model grew out of step with both overall trends in the industry, but also within the barbecue category that has become the epitome of Americana with its grizzled pitmasters on cooking shows.
Those learnings are being directly translated to the company's new Quick-Que' concept it's billing as a streamlined line-service prototype debuting in a northern suburb of Minneapolis in partnership with DTSG Inc., one of its legacy franchisees. With weathered paint, corrugated metal panels, American flag decor, stacked firewood accents, sliding barnwood doors and plenty of shiplap, it's all-American and much more in line with modern barbecue culture than the Famous Dave's of 10 years ago. The dining room is considerably smaller than legacy locations, leaving room for further experimentation.
Faster service times will make for a smoother guest experience, and other qualities of the new model will deliver lower overhead for franchisees, which promises fatter profits and the ability to add drive-thru to the model for more contactless options for 'zees willing to make the investment.
Crivello said this is the biggest cornerstone of an evolving plan that's culminating in being able to offer franchisees three models ranging from a 4,000-square-foot restaurant with full service and a bar, a 2,700-square-foot, line-serve model that he likened to a Chipotle, and a similar template that adds a drive-thru line. "Between those three things, that's really our growth path on the Famous Dave's brand," he said, before diving into several more options that prove the brand has been dutifully completing its off-premises homework during the pandemic.
Onto the next
Before Quick-Que', BBQ Holdings' latest experiment was Hayward's Hen House, which was a chicken-sandwich virtual concept focused on delivery and carryout. It was also a nod to the first Famous Dave's location in Hayward, Wisconsin. Crivello explained that it was a fruitful endeavor even though that brand won't live on in the BBQ Holdings universe.
Hayward's sold chicken sandwiches and chicken strips at $10 price points, along with a handful of burgers, desserts and canned beverages—an intentionally streamlined, delivery-friendly menu intended to be an easy add-on for existing Famous Dave's franchisees.
"We learned a lot from it, but it just didn't gain enough traction," Crivello said. They ended Hayward's less than a year after opening the concept within several Famous Dave's locations. "As we do with everything else, we do lots of tests and we're never afraid to clip something that isn't working and move on. We have our next virtual concept ready to roll. I think it's going to be really exciting, and it's built for high volume."
That latest and greatest idea is low-priced burgers, and it's also intended to boost average unit volumes for the company's franchisees. Asked why burgers, Crivello said it's a category that never goes out of style. As evidence, he pointed to the success of MrBeast Burgers and, going back a few more years, the rise of the better-burger category that many industry watchers said was a bubble that never popped as the Shake Shacks and Five Guys of the world keep expanding across suburbia.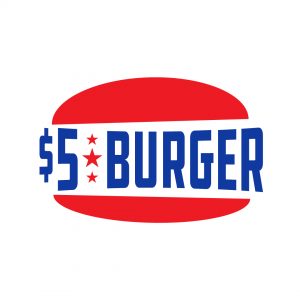 Starting at the end of this month, BBQ Holdings will start rolling out its new $5 Burger virtual brand that won't have its own bricks and mortar. Just like Hayward's, it will be available to Famous Dave's and Granite City owners with no startup costs or additional royalties. The company has already tested these burgers as limited-time offers at both restaurants and Crivello said "we sell them at a deep discount and we sell thousands of them each day." Discount pricing, he added, is intended to make a big splash on the delivery apps.
"If you look at most third-party delivery systems and you want to order a burger from whoever it may be, Guy Fieri, MrBeast, and all these burgers, it's $12 … and then you tack on $5 for fries, and it's $25, $26 to have a burger and fries delivered," he said. "I think we can blow the doors off with volume and give guests that option where they don't have to spend $26."
The $5 Burger brand will officially go live on April 26, and the company's franchisees can get started with the new virtual brand just by ordering slightly different packaging. There are no startup fees, and the company will assist them with integrating the brand directly into their third-party delivery platforms to get started with the new product line.
Dual concepts and beyond
That low-investment, high-impact strategy is one Crivello and his team will double down on as they swim with currents in the restaurant industry, rather than fight against them.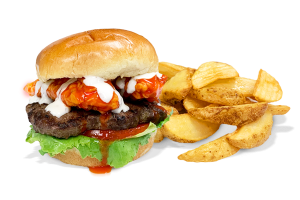 To that end, BBQ Holdings is looking to expand its use of dual-concept restaurants with two restaurants under the same roof. The company already has paired locations of Famous Dave's and its Texas T-Bone Steakhouse, as well as Famous Dave's and Johnny Carino's, an Italian restaurant owned by Fired Up.
Whoever owns that second concept, be it BBQ Holdings or an outside company, Crivello said dual-concept locations could be a significant part of the company's future as it seeks to raise average-unit volumes for brick-and-mortar boxes originally designed to do $6 million in annual sales and, at present, are doing about half that.
"We've had some presentations from other concepts that want to partner with us, they'll put their brand in our box … and there's a lot of interesting things to be had there," he added.
Beyond bringing in additional non-virtual restaurants, BBQ Holdings is also shopping around to expand its own portfolio of brands. After purchasing casual beer-and-food brand Granite City in early 2020, the company is officially on the hunt for a pizza concept, but Crivello said the pandemic boosting pizza sales across the board has created a seller's market.
While he's intrigued by Detroit-style pizza that has become a trend within the category, he also feels that coal- or wood-fired Neapolitan-style pizza "will never go out of style" and said such a brand could be a real winner to slot into the company's future plans, whether that's in the form of a physical restaurant, ghost location, virtual brand—or all of the above.
Whatever its next concept ends up being, Crivello said it's important to have the right view of third-party delivery and its costs as it makes peace with the new restaurant and off-premises landscape.
"Famous Dave's prior to third-party delivery had an age 40 and up demographic," he said.
Post third-party delivery, we have bought down our demographic into the 20s, so it's buying another generation, another group of customers that are coming into your brand. You can either spend a fortune marketing and do that, or you can just do it via technology and that's what's happening."
Click here for a previous cover story on the turnaround at Famous Dave's/BBQ Holdings that appeared in our sister publication, Franchise Times.