By Tom Kaiser and Nicholas Upton
There's nothing more convenient than doing nothing. One tiny step below that is opening a delivery app to plug in a convenience store order, now that so many third-party delivery services have added C-store delivery to their repertoires. To size up this newfound luxury, we checked out five options ranging from local stores to GoPuff and DoorDash's new DashMart offering to see who offers the most convenient option of them all.
Through our testing, we identified the fine line between a "curated" selection and too much choice. Whether it's prepared meals, snacks and soda, pharmacy goods or seasonal bric-a-brac, there's no doubting the convenience of stores bridging the gap between big-box delivery from Walmart and Target, grocery delivery and restaurant meals. The lines between Amazon and formerly restaurant-only third-party delivery brands are shrinking by the day.
Beyond the user experience, sticker shock was a big part of the vibe, as well. Would you be willing to pay service and delivery fees on the regular for a pack of Twizzlers and a run-of-the-mill sandwich? Probably not. But if you're sick, battling a hangover or just looking to skip the in-store experience, convenience stores are yet another trend clearly accelerated by the pandemic.
Let's dig in and check out the wares.

---
DoorDash – DashMart
DoorDash recently opened up a slew of what it calls DashMarts, basically some low-cost real estate packed with convenience items, snacks and limited groceries. One just happened to open up within a mile of the Food On Demand office, which proved a great test of the new channel for the delivery platform.
The interface was the typical DoorDash, but with some clear polish. The layout was clearly not done by a mom-and-pop restaurant, making it really easy to navigate and filter through the scores of items. Popular items (Ben & Jerry's and Takis) were right on top as were grab-and-go prepared food offerings (salad kits). Clearly, folks were using DashMart for indulgences not salad.
There was even a little Halloween section of soda and mini candies that might be the perfect solution to running out of candy for trick-or-treaters—smart.
Like other options, it was a lot of the standard items, but there were also some unique chips and fun options that aren't at many standard convenience stores—at least in the Minneapolis market. That included gourmet hipster chips, really nice soaps and lotions, and some vegan and gluten-free pasta. There were also select grocery items like eggs, apple cider vinegar and vanilla extract—the exact kind of stuff I tend to forget to check before cooking.
The location was really close, but testing some delicate and temperature sensitive items was a big goal in this test. Key test items included an ice cream sandwich, Funyuns (the most breakable crunchy snack known to mankind) and an avocado.
The cost was not out of line with a typical C-store run. Because DoorDash operates the facility, it seems like there's not a hidden premium behind the price. BoomChickaPop kettle corn ($2.99) was standard, a small bag of glass-like Funyuns ($1.69) was standard and the avocado ($2.09) was a steal by millennial standards. A pre-made sandwich ($3.99) was in line with the grab-and-go section of a typical gas station. The all-in cost was fine; there was a $2.44 service fee and free delivery. There was a discount likely to spur new users, but even without that it was a fair price.
The delivery was ahead of schedule and painless, as the DashMart was nearby. All the food arrived in tip-top shape in a sealed bag with my name on it. There was even a little thank-you card with some candy inside—cute! The Funyuns were in great shape, the sandwich was surprisingly tasty and the ice cream sandwich was still frozen solid. The avocado was the star, as it was darn near perfect and ready to eat, better than one often finds at a grocery store.
Bottom line: Don't get your avocados at the grocery store anymore. DashMart is a really solid new channel for DoorDash and clearly got the attention it deserves. The price and the offering make it a sensible alternative to a C-store trip. — Nicholas Upton

---
GoPuff
GoPuff just entered the Minneapolis market, but it's clear this new offering was built with convenience in mind.I sent my wife a few treats from the office to help her get through a stressful day with an indulgent tailwind of Oreos, chips and ice cream.
From the moment you hit the ordering dialogue, it's clear that GoPuff is really focused on ease of ordering C-store favorites. There's a lot of items, but the user interface is very well laid out. It really shows the power of focused apps like this to cut out all the location, restaurant and other data the traditional delivery platforms need to have since it's all coming from the same place.
While I was just getting a few snacks, there is just about everything one would see in a corner market: paper towels, bongs, batteries, Band-Aids, ice cream, etc. It also has a few sections that aren't in a typical corner market like baby items, office supplies, headphones and pet care items.
For the first order, there was a discount, but nothing felt overpriced. Pringles ($2.63) were a little more than a grocery store, but not more than my local convenience store. A pint of Ben & Jerry's ($4.15) was pretty typical and Oreos ($4.50) were less than a dollar more than a nearby grocery store. The all-in price was pretty attractive. too—$1.95 for delivery and a blank spot for a tip made it feel pretty affordable and the price controllable.
The delivery process was straightforward, and text updates helped me track it without having to keep the app open. The text even referenced my ice cream, saying, "Your Half-Baked is fully on its way…" That doesn't really matter, but it shows that the whole experience is connected. Consumers probably don't really care, but it's another indication that there's some really thoughtful technology behind the curtain.
It arrived, my delivery driver called and said she left it on the stoop like I asked and that was that. There was even a little bonus energy drink in the bag. An inquiry about that was not returned yet, but it just so happened that I added and then removed an energy drink (impulse control caught up eventually). It's unclear whether that was just a promotion or a really, stupendously smart strategy around abandoned items is unclear. Either way, free drink!
Bottom line: It's very clear that GoPuff was designed for the ground up to be a true C-store replacement. From the interface to the price, the app really stood out as a potential replacement to walking to the end of the block or making a quick stop on the way home. — Nicholas Upton

---
Postmates – Walgreens
This test is Postmates right in its native habitat as the OG delivery brand long known for delivering more than just restaurant meals. CEO Bastian Lehmann was onto something all those years ago now that its competitors are catching up with their own convenience offerings.
Plugging in my address, a couple of miles outside of downtown Minneapolis, the only non-food merchants were Walgreens, CVS, PetSmart and OfficeMax—I was expecting more. Nevertheless, I chose Walgreens where the choices are overwhelming in a good way.
Narrowing down the store by categories makes the crazy selection more manageable. It's broken down by Halloween, greeting cards, grocery, household, beauty, medicines & treatments, baby & kids, lens & eye care, fitness & nutrition, home health care solutions, personal care, sexual wellness, vitamins & supplements. A person could really cobble together a strange assortment of items, but I was hoping for a lot more Halloween decorations.
Clicking to choose what I'd actually grab in store, I selected a dozen eggs, some Halloween candy and a three-foot plastic skeleton—the essentials. Going through the motions, it's striking how slow the Postmates site is for adding items and then continuing to shop. Nothing was confusing, but none of the other delivery brands made users suffer through such a lethargic interface.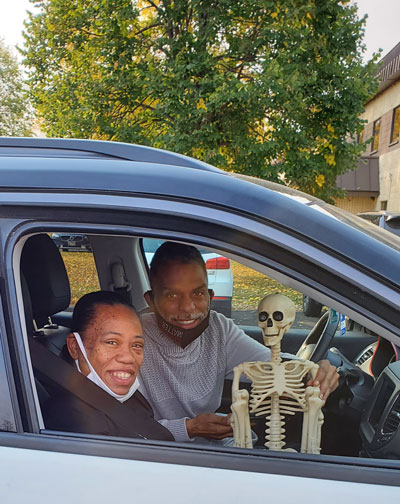 Thirty-three minutes later, my driver Terrance was on his way to One F.O.D. Plaza. I received texts thanking me for the order, informing me it's out for delivery, arriving soon, and then another telling me it arrived. He and his lady in the passenger seat were hilarious, let me take their pictures and said, "This is one weird order" and "Don't forget to tip your Postmates drivers—I work hard!" That was more than enough entertainment for a 20 percent tip, which was an option provided after delivery.
The skeleton ($14.29) was glorious, and my Reese's pumpkins ($5.49) and carton of eggs ($3.29) all survived unscathed. The subtotal was $23.07. With taxes, fees and tip, the grand total was $36.44. Convenient and fun, it was, but the final tab was awfully steep for what I got.
Bottom line: Postmates makes it easy to sort through thousands of items at a typical Walgreens, and the driver was great. Would I pay this much for random whatnots on a regular basis? I would not. — Tom Kaiser

---
Bite Squad – Sentyrz
Bite Squad is mostly a prepared-food delivery company, so getting some convenience-store classics was out of their wheelhouse. While that meant a little bit of clumsiness in the process, it turned out to be a very good delivery experience.
I wanted to see how a few things did in the process, first how frozen food (fish sticks) traveled, how smashed up some chips would be and what kind of banana one gets via delivery. There weren't any proper convenience stores on the platform, so I opted for a little local grocery store across town that had everything I "needed."
The ordering interface was fine, but with a huge list of grocery and convenience items, there was a lot of scrolling and clicking through the menu-selection. That's not typically an issue when ordering food, but when the beverage category, for instance, is 42 items long it gets to be a little cumbersome. It is, however, hard to critique Bite Squad for that, as the vendor could have broken that up into "juice," "soda," etc.
After getting my order together, I saw just how expensive convenience can be! For my items that were already marked up in the range of 25 percent, there was a booking fee ($5.99), a service fee ($4.26) and a suggested tip ($2.13). Both the service fee and the tip apparently went to the driver, but that wasn't clear. My $20 order jumped to just shy of $40; which makes me reticent even to spend expense money on small orders like this.
The delivery process was very good, though, maybe close to worth the cost. I could track the order easily, watch my driver approach on a little map and get an alert when they were near. All the typical techy transparency stuff. My driver showed up several minutes ahead of the quoted time, said hi, handed off the bag of food and wandered back to his car.
The fish sticks ($8.49) were still frosty, the potato chips ($4.49) were in impeccable shape, the locally-made smoked hot dogs ($7.34) were well packaged and the bananas ($.99) were as close to perfect as you can get.
Bottom line: Bite Squad is not a convenience-store brand, but it did a good job of getting some junk food to my door. The cost, however, was pretty steep. Even at my very worst, I'm not sure I'd spend $20 for even a quality experience. — Nicholas Upton

---
DoorDash – Holiday Stationstores
Making big waves with its entrance into the convenience space, DoorDash provided three C-store options, including its own DashMarts. I was provided the options of Casey's, Walgreens and Holiday Stationstore, which is one of the nicer convenience stores in the Upper Midwest.
Compared to Postmates, the DoorDash interface is much faster, more responsive and easier to click through. Categories included produce, dairy & eggs, drinks, pantry, snacks, frozen, candy, bakery, fresh food, personal care, medicine and household. Below those are the Stay Hydrated, Sweet Tooth, Snacking Favorites, Around the House, DoorDash Favorites, Grab n' Go and Thirst Quenchers sub-categories.
Craving a potpourri of items, I selected some Greek yogurt ($2.29), a 20-ounce Cherry Coke ($2.39), single roll of low-grade Bounty paper towels ($3.09), a small box of cinnamon rolls ($5.19) an a chef's salad for lunch ($5.69). The subtotal was $18.65 and, with taxes, delivery fee, service fee and a $5 tip, the total was $30.82.
DoorDash didn't want me to fret this one, sending me a total of five texts telling me the order had been confirmed, picked up, on its way, approaching and delivered. The relief washed over me in an awesome wave.
The delivery was uneventful, arriving less than 25 minutes after ordering. My driver, Chalik, seemed terrified when I asked to take his picture, which is understandable. He declined, awkwardly smiled and got the hell out of dodge, leaving me with a bag of wares that survived the trip with no issues.
Compared to Walgreens, which has an embarrassment of choices, the selection at Holiday felt more manageable to nab a few items without the pressure of building a cart full of a week's worth of staples.
Bottom line: DoorDash's interface is the industry gold standard, but is it really a convenience store experience without lukewarm hotdogs, lottery tickets or everything that's kept behind the cashier counter? Not really, and that's also not really DoorDash or Holiday's fault. I demand my freedom. — Tom Kaiser