There's a rush of delivery providers and marketplaces diversifying beyond restaurant delivery and moving into new corners of retail. The latest example is DoorDash, which just announced a new partnership to deliver thousands of items from Walgreens on demand. This comes just four months after Postmates expanded its own partnership with the second-largest pharmacy brand in the U.S.
While both partnerships do not include delivering prescription medicines, they do cover all the drinks, candy, groceries, personal-care items and over-the-counter medicines that round out the shelves in a typical Walgreens. Through DoorDash, customers in select cities will now have access to more than 2,000 Walgreens items in total.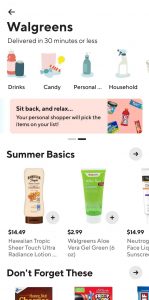 Residents living in Chicago, Atlanta and Denver already have access to the Walgreens delivery through DoorDash, with plans to expand throughout the country and continue expanding the number of items available through the pharmacies, eventually reaching 5,000 items. Markets coming-soon include Cincinnati, Cleveland, Minneapolis, Oklahoma City, Phoenix, Sacramento and Seattle.
To kick things off, DoorDash is offering customers 20 percent off of Walgreens items via the DoorDash app and website on their first order of $15 or more (up to $5 maximum savings). DoorDash DashPass subscribers are entitled to unlimited free delivery fees on Walgreens items.
The addition of Walgreens to the DoorDash platform follows recent launches in the convenience space with other brands including 7-Eleven, WaWa, Casey's, and CVS Pharmacy.