The expected DoorDash IPO is set for December 8, when the company hits the public markets.
It filed a detailed prospectus (S-1) in mid-November (which you can read all about here). In short, the company reported $1.9 billion in revenue and a loss of $149 million in the last nine months. That's more than double the revenue and less than half the losses of 2019, which is why a COVID-era IPO is such ideal timing for the company. DoorDash and its investors are looking to capitalize on the incredible surge of business brought on by the pandemic, and it seeks to do so to the tune of $80 a share.
In the S-1 document, the company outlines the potential share price with a range of $75 to $80. If prior IPOs in the space are any indication, shares could go even higher. While it was certainly a different era, the Grubhub IPO began trading at a 31 percent premium to the expected price of $25. Now the stock trades at $71 with revenue of $1.3 billion in the last nine months and has a smaller share of the overall third-party delivery market.
DoorDash is taking a three-class approach to shares. CNBC does a good job of breaking that down, but essentially, it preserves voting power for founder Tony Xu and the leadership team and guards against potential activist investors wrestling control away from them. Each Class A share holds one vote, Class B shares hold 20 votes for key matters like mergers, acquisitions and board seats.
The 33 million shares open to the public, of course, will be Class A. The 31 million shares of Class B will go to co-founders and early investors—converted from existing company shares. Class C will go to executive officers and other directors and hold no voting power.
Take a look at the who's who getting the stock below.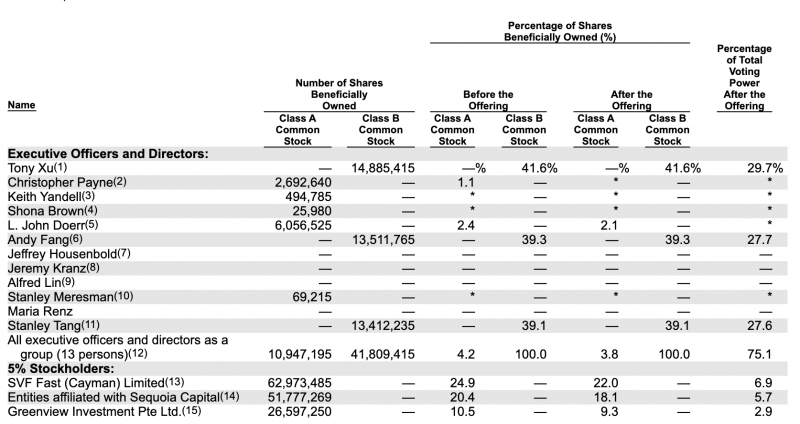 Essentially, only 33 million shares are actually up for grabs, and regardless where in that $75 to $85 range (or higher) that lands, existing shareholders are set to see an exceptional return on investment. According to the S-1, existing shareholders paid on average, $8.73 per share via prior investments. At $80, that would be an 816 percent return on investment.

If it's not obvious, that's a big win for investors like Sequoia, which participated in six investment rounds, Khosla Ventures which participated in four and SoftBank, Y Combinator and a handful of other investors that were involved in three rounds.
In all, the projected $32 billion valuation (a double up from the latest private valuation) would be a fantastic windfall for everyone involved. We'll all see what happens next week.