There's a growing number of options for restaurants looking to reduce the impact of delivery commissions and capture customer data through a self-delivery program. Relay Delivery, an East Coast delivery fleet operator, argues restaurants should seek a native solution that doesn't include working with third-party providers, which its CEO argues is like letting a fox inside the hen house.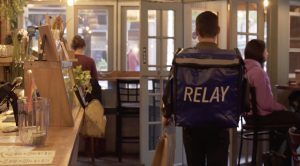 Founded in New York City in 2014 before most restaurants had even heard the terms native or self-delivery, Relay Delivery is focused on the dense urban markets along the East Coast, including New York, Washington, D.C. and Philadelphia. Having just passed the one-year mile marker in Philadelphia, Relay is planning to expand to Boston, Pittsburgh, Chicago, Miami, Atlanta and other cities—wherever you see skyscrapers, said CEO Alex Blum.
With so many restaurants shut down in its prime markets, especially New York, Relay has been able to maintain profitability as much of the industry—from small mom-and-pop restaurants up to big enterprise brands—and has begun testing the economics and operational challenges of delivering customer meals themselves.
As this trend has expanded, many of the largest third-party delivery brands have rolled out their own options for restaurants to utilize their services for delivery fulfillment, but not for order generation. While that typically entails a much lower overall commission for restaurants, Blum says their seemingly neutral stance on native delivery is masking a longer-term interest in enticing a restaurant's best native customers to instead order through their marketplaces.
"There's a very clear conflict of interest where, yes, DoorDash can pick up orders placed natively on a restaurant's website, but make no mistake, the only reason DoorDash has a product that lets restaurants do this is because it gives DoorDash access to those direct-to-website customers," Blum claimed. "That's how they're going to make money in the long run."
A DoorDash spokesperson pushed back against that statement, clarifying that the company would need explicit approval from merchant Drive partners to market to those customers.
Looking out longer term, Blum said that even though some restaurant customers have learned about the behind-the-scenes economics of delivery, he expects the convenience of third-party aggregators to continue to be the majority of delivery fulfillment going forward.
Asked what mistakes he sees restaurants making in these (hopefully) later stages of the pandemic, Blum said not setting up direct customer ordering through a restaurant's app or website takes the cake, followed by leveraging third-parties that are "not agnostic" to handle those deliveries.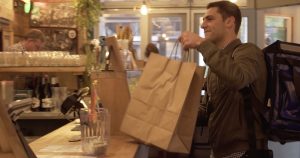 However 2021 ultimately transpires, Relay is focused on increasing its efficiency, which it says can be passed onto customers in the form of lower restaurant pricing, allowing the company to onboard even more restaurants onto its platform.
Speaking with Food On Demand shortly after California voters approved Proposition 22, which allows delivery providers to continue operating with drivers who are independent contractors, Blum said that individual states and the federal government should look to Canada, which uses a third classification system that allows for dependent contractors who derive the bulk of their income from a single source, like a delivery provider.
Touching on his love for urban planning, Blum said it is "preposterous" how much valuable urban space is given to personal vehicles, and that his vision for the post-pandemic era includes more space for bikes and pedestrians.
"Assuming there is a vaccine (solution), then I think you're going to see the urban core of cities become reenergized a lot quicker," he added, noting that he expects office capacity to continue lagging as the world returns to normalcy. "Remote work definitely is another thing that has accelerated the same way that consumers are adopting online food delivery or online ordering, but ultimately I think face-to-face interaction trumps all."
With the bulk of Relay's deliveries happening on two wheels, Blum said the company is exploring whether it might be able to sell carbon credits in the future, which could be an additional source of revenue for the company.
Before any of that might come to pass, Blum is focused on helping restaurant owners find a way to survive the present moment and whatever comes next over the coming months. For operators in markets that Relay hasn't yet entered, he added that smaller courier services exist in most cities.
"You might be better off just having a delivery guy that works for you directly if there's no agnostic third party," he said. "You have to be very careful who you give access to your customers."