Marc Lore, the founder of Jet.com, is moving further into the U.S. food delivery scene with a new company called Wonder, an on-demand meal courier platform he calls a "one-stop shop" for prepared meals.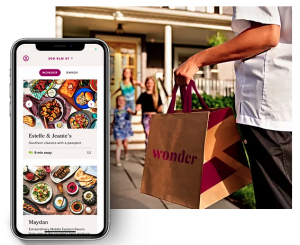 According to various reports, Wonder Group has recently raised more than $500 million dollars in venture capital, and is finalizing plans to bring its Wonder and Envoy brands to Westchester County, New York, parts of Connecticut, northern and central New Jersey and parts of New York City.
Lore has suggested his new businesses combine aspects of food trucks, ghost kitchens, and delivery platforms like DoorDash and Uber Eats to create something new in the delivery space. He has partnered with Scott Hilton, previously chief revenue officer of Walmart, who now serves as Wonder's CEO, a division within Wonder Group that oversees a fleet of trucks with small kitchens inside.
Wonder allows customers to summon these food trucks to their houses through the app, where the trucks will cook food at the curb. Its early outposts suggest the service is aimed at high-wealth customers willing to pay for a tailored, chef-driven experience brought right to their homes. The company is reportedly planning to expand its current stable of 60 trucks to more than 1,000 units by the end of 2022, according to Bloomberg.
Wonder Group's Envoy offering is more like a traditional third-party delivery service, partnering with local restaurants to offer direct delivery and customer pickup.
As the founder of Jet, the ecommerce site Walmart acquired for $3.3 billion in 2016 and shut down in 2020, Lore was once viewed as a key rival to Amazon.com's rapid ascent in the online retail space. Lore is also co-owner of the Minnesota Timberwolves and Minnesota Lynx professional sports teams, as well as co-founder and general partner of VCP Ventures, among other initiatives.