Food delivery has a packaging problem, and it's not just sad fries. For nearly every single order, there is at least one single-use container heading to the landfill or out into the environment.
To address that issue, Dispatch Goods has been working on returnable containers designed for restaurants and mail-order food deliveries. After growing a successful program in the Bay Area, the company jumped to the East Coast after closing a $3.7 million fundraising round that will help the company continue expanding.
For cofounders Maia Tekle and Lindsey Hoell, it's a generational issue, but the a-ha moment came from the beach.
"It really started with Lindsey, she as working in cardiac surgery and it bought her to Hawaii," said Tekle. "One of the things that was a big eye-opener was hiking out to remote beaches and seeing that our plastic issue is a generational issue not a littering issue. Even the remote beaches are covered with plastic and it's being regurgitated from the ocean."
Tekle had seen the issue up close, prior to joining Dispatch, when she was the restaurant partnership lead for the West Coast at food delivery company Caviar.
"I could see our industry growing and our problem growing," said Tekle. "Working with restaurants, I knew it was already a pain point. I knew they hated the waste as much as the consumer. They hate buying that much and it just gets thrown out."
It's also no secret that most packaging is bad at holding temperatures and looks like, well, garbage.
"A lot of chefs are in restaurants because it's an artform and want their food to be displayed and presented beautifully, so it's how do we display that in a better way. A re-use system allows them to do that a little better, even if they're not environmentalists they can have a much better experience," said Tekle.
The core of the concept is rectangle steel containers, vented lids and mason jars. Then Dispatch cleans everything in a cleaning facility within about an hour and a half drive from a market. Tekle said for restaurants, Dispatch looks a lot like any packaging partnership.
"It works very similar to single use, we come in and show you our fleet of products and evaluate what you're using now and have them play around with the containers. They place their first orders and we set a launch date," said Tekle. "Honestly, it's just a container swap which is really our goal for them, to be as easy as switching a container vendor."
For consumers, it looks a lot like a standard recycling program, though people love to complete the circle themselves, too.
"We take a lot of notes from our current recycling system," said Tekle. "As we've evolved, that home collection has become what is preferred. We kind of took a note that we should always have a home collection. But what we didn't realize is that during their daily walks they were much more willing to bring it to a restaurant or return bin."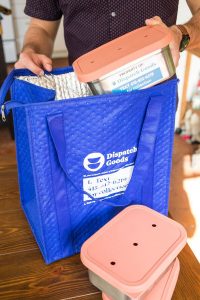 The blue bag used in collections and returns has even become a hot little accessory in the home market.
"There's also some virtual signaling, it's a bright blue bag, especially in the Bay Area where we've operated for a few years," said Tekle. "It's a symbol that I'm doing something."
She said her best pitch is partner Yelp reviews that laud the reusable packaging. And there is even evidence it boosts sales from consumers who are reluctant to order restaurant delivery because of all the waste.
"Our restaurant partners have seen topline growth since launching with us. One of the main reasons people don't order as frequently is the waste, so they're not only attracting a more eco-conscious consumer but also more frequently because we're alleviating the guilt," said Tekle. "I can't tell you how many times that our estimates had to double."
She said pricing is "comparable" to many single-use packaging programs, which makes it an easy switch for the accountants too. Expanding regulations around single-use plastics and the industry move to better packaging will bring costs even closer. At that point, "if it's even, why not switch," said Tekle, noting that Dispatch is already cheaper than glass containers.
Dispatch is also working with a handful of direct-to-consumer brands like Imperfect Foods, which Dispatch helps with returnable freezer packs and insulation.
The company just brought operations to the Baltimore and Washington, D.C., area, its second market after the Bay Area. She said the recent funding will help pay for that expansion and further growth, which is a substantial investment. Dispatch operates a centralized cleaning center, and needs to build out the local logistics network necessary to pick up the used containers.
There's a lot to love, better experience for customers, options for waste-reluctant consumers and nearly cost parity with single-use packaging. The sales growth on top makes it even more of a "no-brainer." Tekle said she's especially excited to grow because everyone just sort of agrees it's a better system.
"Regardless of location, trash is a pain point for everyone," said Tekle. "We're all on the same team, which is a unique thing for this time period. If you don't subscribe to the environmental focus, it's still a great solution. We joke that we trick people into become environmentalists."