As the debate over fees and customer data continues its slow burn in the delivery space, one smaller player is going all in on sharing customer information with restaurants so they can fine-tune their operations and develop marketing campaigns to target the best users and neighborhoods in what the San Diego-based company calls a "watershed moment within the food-delivery industry."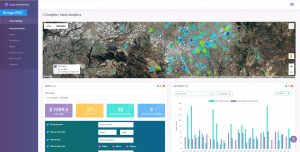 Established in 2012, Hungr has made its mark in the delivery space with a driver network that's largely independent contractors with delivery radii that tend to be much wider than most other restaurant delivery providers. With its new Insights tool, the company is further differentiating itself by giving its restaurant customers granular customer information with a visual map to make it easy for them to tweak their operations and develop marketing campaigns to boost delivery sales in prime hotspots.
Because of privacy concerns, Hungr can't share customer contact details, but the information it can share as part of its new Insights feature includes neighborhood, order frequency, food type, and order value, among others. With its existing add-on Concierge Plus service for restaurants, the company can also analyze the data and create what it calls integrated marketing campaigns to "target customers through a mix of social, digital and print options."
Like many brands in the delivery end of the restaurant pool, Hungr's business has been boosted by the pandemic, as scores of restaurants rushed to build takeout and delivery programs and get their establishments listed on local, regional and national delivery marketplaces. During the first three months of COVID alone, the company saw nearly 30,000 drivers apply to the company, many newly laid off restaurant workers.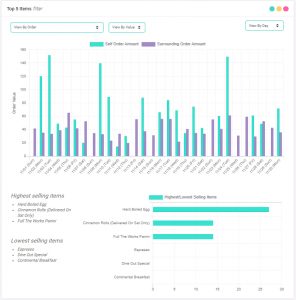 Hungr Chief Marketing Officer Aaron Mortensen said adding drivers with restaurant experience, which in some cases included ServSafe certification, has helped the company expand in recent months. Even more importantly, the company's 12 percent delivery commissions remain Hungr's primary selling point as delivery volumes have grown across the board.
The bulk of its restaurant merchants are exactly the kind of mom-and-pop restaurants that have been hardest hit during the ongoing lockdowns and dining room restrictions that have characterized 2020.
Hungr recently added Kevin Tinsley, whose focus is specifically on larger, enterprise-scale restaurants, to its headquarters team. For restaurants of either format, the company is showing restaurants how they can take previously inaccessible customer data to juice sales and improve the efficiency of marketing dollars to avoid areas that haven't historically generated sales for the restaurant.
As the largest delivery providers have combined and gone public in recent months, Mortensen said that the company's profitability is another primary point of differentiation in an industry that has publicly struggled to parlay dramatically higher delivery adoption with sustainable quarterly profits.
"Hungr is a product, but we actually do a lot of different things within the hospitality space," Mortensen added, noting that the company has its own point-of-sale system and other products like digital menu boards and audio/visual products for restaurant operators under its parent company, Rapid Delivery.
By combining technology with delivery drivers and data-based marketing, Hungr touts that "little things" like hospitality experience and higher-quality drivers—along with commissions lower than the industry average—are bringing in a new wave of restaurant customers that are digging deeper to find ways of turning a profit when the bulk of orders now come with commissions attached.
For many of Hungr's restaurant clients, being able to deliver into a much larger territory can be worth bringing another delivery platform into the operation. Mortensen was careful to stress that delivering a box of donuts 100 miles away isn't practical for everyday orders, special occasions like wedding receptions and other large events can bring a new group of customers into a restaurant's delivery turf.
"There are regional players out there and they need to be on all the applications they can, because each application has a nuance and a potential audience, regardless of the audience size," he added. "When you remove that barrier and compensate the driver for the distance, the driver is thrilled to deliver it 10 miles, 100 miles, whatever it might be."
Hungr charges restaurants an additional $49 per month for its Insights sales analytics, and the duo took me through an example of what restaurants are able to see based on ordering trends. Whether it's a big brand or an independent operator, they said that the "gold" for their clients comes from giving restaurants the ability to direct their marketing spend to the areas that make up the bulk of ordering volumes—which is data most national delivery providers are either monetizing or strictly not sharing with merchants.
Using an example of a restaurant that discovered a large number of orders are coming from a specific neighborhood, Insights allows them to zoom in further to discover that, for example, a local school or job center is valuable enough to develop digital- or print-based marketing campaigns to double down on that honey hole—to use a term from the fishing world.
"That's why we have seen such an increase in virtual restaurants, because the third-party delivery companies have this data, they know what's not selling and not available," Tinsley said. "With this type of data, there's so much more we have to learn and what customers are searching for—I don't think that end is in sight anywhere soon."
Beyond marketing, Hungr is telling its customers that this customer data can even help them make educated decisions when placing their next food orders, to avoid wasting unsold food and to avoid running out of critical items during peak periods, like sports tournaments or holidays.
Tinsley stressed that customers can only get ordering data from their own restaurants, not data from their competitors. That kind of data is provided in aggregate, but not differentiated between individual restaurants.
"Most customers don't want their information shared with everyone in the world, so what we're doing is, we're providing the details that the restaurant needs to know, because in reality the restaurants don't care about the [customer] phone number," Mortensen said. "They want to know whether that's a repeat customer, what are they ordering, where are they ordering from, what are they doing, so we can provide all those other details without having to share the customer's phone number … and give the restaurant the ability to re-market to those customers through our platform."