Amazon Prime members in two towns—one in California and another in Texas—have reportedly begun receiving drone deliveries through the retail giant's Prime Air service. As multiple outlets have reported, the first aerial deliveries began just before Christmas.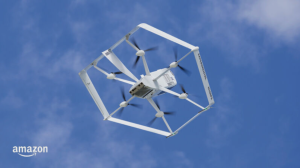 The official roll-out of Amazon's Prime Air service was first announced back in June, with the Washington-based company stating that residents in Lockeford, California, would be the first customers to receive public drone deliveries. College Station, Texas, home of Texas A&M University between Austin and Houston will be the second municipality on Amazon's aerial to-do list.
"Our aim is to safely introduce our drones to the skies, said Amazon Air spokesperson Natalie Banke. "We are starting in these communities and will gradually expand deliveries to more customers over time."
In a previous press release, Amazon said it has been working "for almost a decade" to make this a reality. According to the publication Ars Technica, Amazon is shooting for drone package deliveries to happen within 60 minutes.
Ars Technica reported that residents in both towns can sign up for the service, and then await confirmation whether "the company can deliver safely to the customer's address" before customers receive detailed delivery time and tracking information.
Compared to some drones that require human observers along the route of every flight, Prime Air's drones have "industry-leading sense-and-avoid systems" to enable flight without visual observers, allowing its drones to operate at greater distances.