Amazon announced that customers in a city near Sacramento, California, will be among the first U.S. residents to receive drone deliveries through its Prime Air Service. The aerial deliveries, slated to begin later this year, mark a significant milestone as Amazon's first public drone deliveries inside its home market.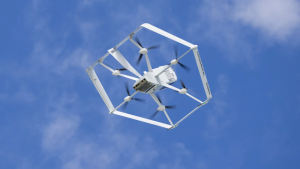 In a press release, Amazon said it's been working "for almost a decade" to make this a reality, which has included work from teams of hundreds of scientists, engineers, aerospace professionals and futurists.
The company noted that Lockeford, south of Sacramento and east of San Francisco, has historic links to the aviation industry, including resident Weldon B. Cooke, who built and flew early planes in the early 1900s.
"Lockeford residents will play an important role in defining the future," Amazon said. "Their feedback about Prime Air, with drones delivering packages in their backyards, will help us create a service that will safely scale to meet the needs of customers everywhere—while adding another innovation milestone to the town's aviation history."
Amazon added that the new service will create new jobs in the community, while helping to reduce carbon emissions, noting that "this futuristic technology…could one day become just as common as seeing an Amazon delivery van pull up outside your house."
Compared to some drones that require human observers along the route of every flight, Prime Air's drones have "industry-leading sense-and-avoid systems" to enable flight without visual observers, allowing its drones to operate at greater distances.
When flying to the delivery location, the drones need to be able to identify static and moving obstacles. Amazon's algorithms use a suite of technologies for object detection. Using this system, its drone can identify a static object in its path, like a chimney. It can also detect moving objects on the horizon, like other aircraft, even when it's hard for people to see them.
If obstacles are identified, the drone will automatically change course to safely avoid them. As the vehicle descends to deliver the package into a customer's backyard, its technology ensures that there's a small area around the delivery location that's clear of any people, animals, or other obstacles.
"Lockeford residents will soon have access to one of the world's leading delivery innovations," said California State Assemblyman Heath Flora, whose district includes Lockeford. "It's exciting that Amazon will be listening to the feedback of the San Joaquin County community to inform the future development of this technology."