DoorDash and Wing Aviation are beginning to make drone deliveries via the DoorDash app in Australia this week with a goal of delivering meals and retail goods within 15 minutes. Launching this week, the service will be tested via a pilot program in London, located within the booming South East Queensland region.
The partnership is a global-first for both companies, and will also be the first time that Wing is integrating its drone delivery service within another marketplace, giving eligible DoorDash customers access to on-demand drone deliveries.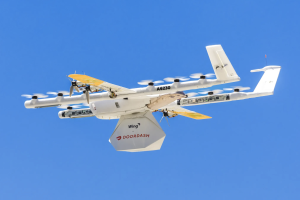 DoorDash first entered the Australian market in 2019, starting with the city of Melbourne. It was the largest U.S.-based delivery brand's first expansion outside of North America.
DoorDash and Wing will pilot the drone delivery service in select suburbs in the Logan community, delivering a range of convenience and grocery items, pantry staples, snacks, and household essentials.
Initially available to a small number of households in the suburbs of Berrinba, Browns Plains, Crestmead, Heritage Park, Kingston, Logan Central, Marsden, Regents Park and Waterford West, service will gradually roll out to more customers in surrounding areas over the coming months.
Eligible DoorDash customers will be invited to participate via the DoorDash app. Customers can place their order through the DoorDash Air store in the app, selecting Drone Delivery when prompted, and within 15 minutes, their purchase will be delivered by drone. Wing drones can carry a payload of just over 1kg, and travel at a speed of around 110km/h.
This new modality for DoorDash will allow customers to access efficient and sustainable deliveries and complement existing order volume on the platform, which Rebecca Burrows, general manager Australia, DoorDash expresses as a priority for the online delivery platform.
"We cannot be more excited to be at the forefront of drone deliveries," says Burrows. "Wing affords our customers the convenience and speed of air travel deliveries, of the local products and brands they know and love."
"Drone delivery can provide an excellent complement to our ground delivery services. Delivery drones create a quick, efficient delivery option for smaller orders weighing just over a kilo, and free up ground delivery services for larger deliveries that provide better compensation to drivers," she added. "This partnership will bring the most popular delivery bundles that customers can expect to receive in less than 15 minutes.  Whether it's Vegemite and butter, iced coffee, corn chips and salsa, baby food and even band-aids, this will make accessing those last-minute necessities a whole lot easier."
Simon Rossi, Wing Australia general manager said, as Australia's first on-demand drone delivery service, Wing is investing in a range of local pilot programs, designed to help enable drone delivery at scale, and bring delivery to more Australians.
"We're excited to be extending our drone delivery capability by making it available to customers through the DoorDash app, offering DoorDash customers added convenience," Rossi said. "Over the last few years, we've seen an acceleration of consumer demand for fast, contactless delivery options, and now people expect quicker, on-demand access to food, medicine, and convenience items.
"While Wing has traditionally provided delivery services directly to residential and business customers, to further accelerate our technology development, we'll be increasingly working with marketplaces and logistics partners to expand their delivery options, making fast drone delivery affordable and sustainable for them, and their customers."
DoorDash said drone delivery will "provide an excellent complement to ground delivery services" fulfilled by delivery drivers and riders. Rather than changing the volume of orders on the DoorDash platform available to delivery riders and drivers, the company said its goal is providing consumers with a quick, efficient and sustainable delivery option for very small orders while creating incremental order growth across the platform.
DoorDash sees automation as a means to develop the right platform solution to satisfy consumer demand across the globe, while improving efficiencies within the platform.