DoorDash has announced its official launch in Melbourne, Australia, through a post on the company's blog. It's the largest U.S.-based delivery brand's first expansion outside of North America. In preparation for the launch, DoorDash has already added thousands of restaurants to the platform, including partnerships with national brands like Nando's, Salsa's, Boost Juice and Betty's Burgers.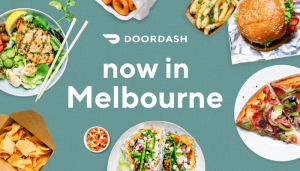 As part of its "celebration" of the news, and a new international front in the great delivery coupon wars, DoorDash is offering free delivery in Melbourne for orders greater than $10 during the first 30 days. In addition, customers will receive $30 vouchers for any orders that don't arrive within 30 minutes.
"We're thrilled to offer Melburnian residents unprecedented access to the restaurants they love and look forward to expanding throughout the suburbs of Melbourne, its surrounding regional cities, and Australia broadly through the end of 2019 and into 2020," said Thomas Stephens, the company's acting GM for Australia, adding that everyone should stay tuned for where the company heads next.