DoorDash rolled out a range of updates designed to make ordering delivery safer for Dashers, customers and merchants. They include real-time safety alerts, a SafeChat program that detects offensive language, and porch light reminders intended to create a safer, more welcoming environment for Dashers.
These new features have been added to the platform one year after the launch of DoorDash's SafeDash toolkit to help Dashers feel safe. Since then, 36 percent of the company's drivers say they have worked more often—with 30 percent saying they "have dashed more" during nighttime hours.
"We care deeply about the safety and wellbeing of all Dashers," the largest delivery provider said about its new initiative. "Every day, Dashers complete millions of deliveries that connect and empower local communities. The overwhelming majority of deliveries—more than 99.99 percent—are completed without any safety-related incident at all."
The company's release added that nearly all of its drivers, of both genders, said they preferred delivery over rideshare "in part because they believe it's safer."
"While we have made strong progress, we're clear-eyed about safety and recognize there will always be more work to be done to help make dashing as safe as possible," the release stated. "That's why our teams are constantly working on new technology and safety features to help Dashers stay safe before, during, and after every dash."
"When we launched SafeDash a year ago, it was a giant step forward in becoming the platform most trusted by individuals looking for app-based work," said Rajat Shroff, vice president of product at DoorDash. "As we continue to dream big in developing the best earnings platform for supplemental income, we're excited to roll out our largest safety product update ever, giving Dashers greater peace of mind while on the road."
Here's a roundup of all the safety-minded changes DoorDash has rolled out:
SafeDash Check-In
To give Dashers even greater peace of mind, we're introducing SafeDash Check-In. If we detect that a dash is taking longer than expected, we'll automatically check in to see if the Dasher is okay. If they feel unsafe or are unresponsive, an ADT safety agent will call them and, if necessary, provide assistance or contact 911. SafeDash Check-In will initially launch in New York City and Washington, D.C. before being rolled out across the U.S.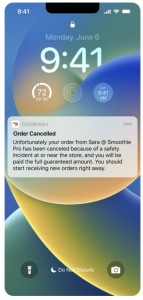 Real-Time Safety Alerts
When an emergency happens or disaster strikes, every second counts. That's why we're partnering with samdesk, a global crisis detection platform, to roll out Real-Time Safety Alerts. In the event of an emergency, we can quickly alert Dashers, customers and merchants about the incident and suspend operations near the impacted area. This includes canceling any active deliveries so Dashers can avoid the impacted area and stay out of harm's way. We will also proactively check-in on Dashers near any impacted area to make sure they are okay. So far, we've piloted Real-Time Safety Alerts in response to active shootings, bomb threats and building fires across the U.S. Real-Time Safety Alerts will be available in the U.S., Canada, Australia and New Zealand.
SafeChat 
To help promote a safe, respectful environment and protect customers and prevent safety incidents, we're introducing SafeChat. If our technology detects inappropriate or offensive language in a chat on our app, the person who sent the message will receive a warning reminding them of the potential consequences. The person who received the message will automatically be given the option to report the issue and if they are a Dasher they can unassign from the delivery without any penalty. SafeChat is now active in the U.S., Canada, Australia and New Zealand.
Safety Reporting
We're making it faster and easier than ever for Dashers to report a safety incident during or after a delivery. If a customer makes a Dasher feel unsafe, they can immediately report it via in-app chat or call for investigation. Dashers can also choose to block future deliveries made through our platform to that customer in the future. This feature is available to Dashers in the U.S., Canada, Australia and New Zealand.
Porch Lights Reminders
We've listened to Dashers who have told us that better lighting would make it easier for them to find the right address and make them feel safer when dashing at night. We will send a notification to customers asking them to turn their porch or house lights on as the Dasher is approaching. Porch Lights Reminders are now active in the U.S, Canada, Australia and New Zealand.