DoorDash and Payfare have announced the launch of the DasherDirect platform, a banking platform for DoorDash delivery drivers that includes mobile banking and prepaid Visa cards for its Dashers. This marks DoorDash's first-ever financial platform for Dashers, and the company says this provides its drivers with "new rewards and more flexibility and control over their earnings."
DasherDirect, issued by Stride Bank and enabled by Payfare, offers Dashers no-fee daily deposits of their DoorDash earnings, convenient digital banking functionality and cash-back rewards.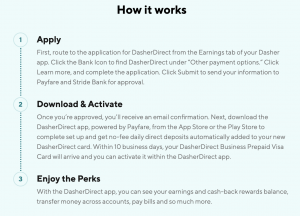 DasherDirect is a card designed specifically for Dashers, and means that drivers can earn and receive money each day they work with funds added to their DasherDirect Visa card at no cost to the driver. Dashers can check their balance, pay bills, transfer money, set savings goals and find no fee ATMs on the go— without worrying about overdraft fees or minimum account balance requirements. Dashers also earn 2 percent cash back on fuel at any gas station.
This launch is part of DoorDash's Main Street Strong Pledge to empower local communities, which includes enabling Dashers to achieve greater financial empowerment and meet their professional goals.
"Over seven million households in the U.S. are without a checking or savings account*, and with the support of our partners we're proud to provide financial resources to more Americans looking for flexible earnings opportunities," said Tony Xu, CEO and co-founder of DoorDash. "This is a major step forward in introducing new tools to empower Dashers who count on DoorDash for reliable, independent and flexible work."
More information on the program is available at: https://get.doordash.com/dasherdirect.