DoorDash held its first Dash Forward event to celebrate the delivery platform's 10th anniversary, and used the online occasion to announce new updates and features to its offering—billed as the biggest app update in its history. 
The changes DoorDash announced are designed to encourage users to shop for more than prepared meals with a "universal search" function, new navigation tabs, and the ability to build multiple carts and save progress when shopping between various product categories. 
For merchants, the changes include what DoorDash calls "personalized growth recommendations" to help restaurants optimize their business performance, easier-to-digest insights, as well as in-app store rewards to encourage repeat business and enhanced Storefront features to boost volumes for first-party ordering channels. 
Dashers also have new options, giving them the choice to "earn by time" at a guaranteed minimum hourly rate for active delivery time or to "earn per offer," which is the existing, traditional earnings mode. 
The company also added post-checkout tipping for customers to add or increase Dasher tips up to 30 days after delivery, as well as Dash Along the Way that's intended to reduce unwanted downtime to help drivers receive orders along their commute to a preferred starting territory. It also includes "SafeDash Location Sharing" to let drivers' loved ones track them in real time throughout their shift. 
Co-founder and CEO Tony Xu opened the event by recapping his history about emigrating to the U.S. with his parents when he was five years old, his childhood time moonlighting as a dishwasher, and how that history connects to the company's goal of writing its "own underdog story." 
Xu said these new additions and updates will further DoorDash's mission to bring more retailers and businesses that "make our neighborhoods tick" onto the platform, and deepen their integration into the delivery provider's marketplace. 
"We have to build a catalog of all the physical places and items in stores…just to name a few things," he said. "We have to build a logistics fleet that can serve crowded cities like Manhattan and Tokyo" down to cities as small as Owensboro, Kentucky. 
With more than 5 billion customer orders fulfilled through the platform across 29 countries, Xu highlighted other key milestones, while making it clear that retail and grocery would be an increasing part of the company's next phase.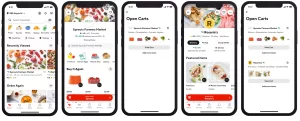 "By achieving these outcomes, more opportunities for work will be created locally, and all of this will grow the GDP of cities…this is a world worth fighting for," Xu added. "We believe a world with many digital storefronts is a better place than a place controlled by a few." 
DoorDash Vice President and Head of Product Management and Design Rajat Shroff delved into the details of the updates, and highlighted the new ability for customers to build multiple carts, so getting hungry and ordering a meal doesn't disrupt a larger, more complicated grocery order, for example. 
Shroff added that its universal search bar now at the top of the app, as well as the new browsing tabs, will make the shopping process easier for customers that want to look around at offerings, rather than those who know exactly what they're looking for and what merchant they'd like to get it from. 
"Now you can start multiple shopping carts in the app so you never lose progress on an order again," he said., which he said was a key part of unlocking new possibilities for everyone "efficiently and profitably." 
The company also introduced SNAP/EBT online payments for grocery orders, with multiple partners including Aldi, Albertsons, Safeway, Meijer and participating 7-Eleven stores.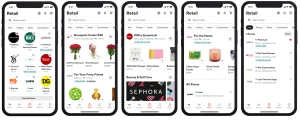 Helena Seo, head of design at DoorDash, said the updates to the shopping journey primarily came from consumer feedback, adding that 61 percent of the time customers open the app to place an immediate order. The new experience, she added, will better react to "what every unique customer needs in every unique moment." 
Austin Haugen, VP of product, Dasher and logistics, at DoorDash, said the changes to driver tipping will make it easier for customers to reward drivers for exceptional service, rather than the previous setup that only allows customers to add a tip when submitting an order—before any service has actually been provided. 
The event closed with Shroff taking a handful of questions submitted by the audience, including questions about how DoorDash generates revenue from its first-party Storefront offering, as well as the details of the new tipping policies for drivers and its new customer rewards features. 
Loyalty rewards will not be integrated with standalone restaurant brand rewards, but will instead be isolated to DoorDash customers.  
"They want the same hospitality and the same perks they get inside when they go into the store," he said, adding that it will allow merchants to have a new way to engage with their most loyal customers.