At this year's CES expo in Las Vegas, Ottonomy.IO showed off its Ottobot Yeti, which the company claims is the first fully autonomous delivery robot that can handle curbside, first-mile and last-mile deliveries, as well as locker integration and automated return for restaurants and retailers.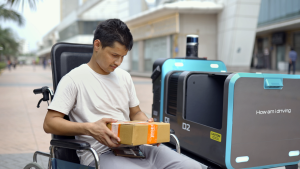 The Ottobot 2.0, first introduced in late 2022, is fully customized and modular with interchangeable cabins and specializations based on the needs of retailers, restaurants and other curbside deliveries. It was designed with accessibility and directional mobility in mind through the use of "proprietary contextual mobility navigation" that enables the device to autonomously navigate through crowded, unpredictable environments.
Ottonomy said the device is part of the company's plan to pave the way for efficient and sustainable delivery logistics. Through global pilot tests during the last year, Ottonomy said the device successfully demonstrated its capabilities, including in various inclement weather conditions, and is now ready to provide autonomous delivery for multiple use cases at scale.
Viewed with other autonomous robot and drone delivery providers, the Ottobot Yeti is one more sign that 2023 is the year where automated deliveries go mainstream.
"During the validation processes we ran pilots with airports, retailers and postal services which gave us the deep insights we needed on the most effective use cases and scalability," says Ritukar Vijay, CEO and co-founder of Ottonomy. "With our strategic alignment with Verizon and other enterprises, we are in the prime position to fill the gap that companies like Amazon and Fedex were not able to. As demand and the use cases for autonomous unassisted delivery continue to grow, we are positioned to provide robots-as-a-service for restaurants, retailers and beyond."
Citing a recent study predicting dramatic increases in automated deliveries, Ottonomy says it is launching its robot-as-a-service business model as a way to catalyze rapid adoption of autonomous deliveries.
In 2022, Ottonomy successfully deployed autonomous delivery robots at Cincinnati/Northern Kentucky (CVG), Rome Fiumicino International Airport (FCO), and Pittsburgh (PIT). In addition, Ottonomy robots are used by Posten Norge in Oslo, Norway, as well as Goggo in Madrid, Spain, for automating first-mile delivery and last-mile deliveries.
Click HERE to watch the Ottobot in action.