White Rhino, a Beijing-based autonomous delivery vehicle manufacturer, has raised nearly $8 million through a recent Series A funding round. It's the company's second million-dollar funding round in the last six months.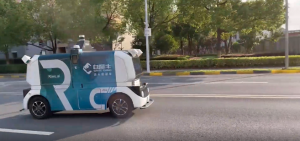 Like Nuro, which is now valued at $8.6 billion, White Rhino's vehicles are designed to operate in vehicular traffic. Because they operate at level 4 autonomy, its delivery bots are considered fully autonomous, and require no human control. That's a very big deal, as even the world's most advanced automakers (including Tesla) have not yet achieved level 4 self-driving technology.
White Rhino's vehicles are focused on urban roads, and the company's mission is providing "unmanned delivery and reliable delivery"—however that's a rough Google translation of its native-language website.
The company says it's the first Chinese autonomous driving company to carry out unmanned distribution of fresh foods on public roads in Chinese cities. It has already conducted unmanned deliveries in Beijing, Shanghai, Shenzhen and other cities. Its website shows several videos of its vehicles careening through traffic in a variety of conditions.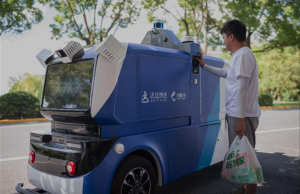 The Robot Report says the company's vehicles have remote operators available "to get its vehicles out of tricky situations, like parallel driving and interactions with humans." It also quoted White Rhino CEO Zhu Lei saying the company's goal is "to realize daily operation of 5,000 unmanned vehicles on public roads within 5 years from 2022."
According to the company, its vehicles have multiple sensors that can cope with moderate rain, snow, haze and night conditions. They're also smart enough to deal with traffic lights, random crowds and congested traffic.
White Rhino was founded in 2019, and it reportedly received $10 million in investor funding back in July of 2021.