With mall and hotel kiosks, packaged goods on store shelves and drive-thrus all over, you might feel like Starbucks is everywhere, but a new delivery partnership with Uber Eats means that coffee call may soon be coming from inside your house. During its 2018 Investor Conference, Starbucks announced it's expanding Starbucks Delivers to a quarter of its company-owned stores in the U.S. In 2018, Starbucks had 28,218 stores worldwide and 14,606 in the U.S.
During its biennial Investor Conference in New York before Christmas, Starbucks opened up its playbook, which includes another round of new store growth, expanded cold beverages and, most notably, an aggressive expansion of its Starbucks Delivers service in the U.S.—part of its effort to grow same-store sales by 3 to 4 percent this year. Also mentioned in that call was a first-of-its-kind virtual store in China in concert with Alibaba, China's largest online commercial company.
John Culver, the company's group president, international and channels, said its strategic partnership with Alibaba in China, previously announced in August, will improve the company's digital experience, while transforming China's coffee industry like it has done on its home turf.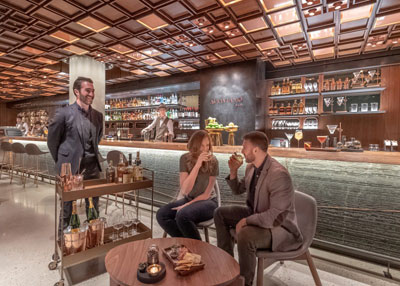 Previously Starbucks initiated pilots of Starbucks Delivers in Tokyo and Miami with Uber Eats, a program that already covers more than 2,000 Starbucks stores across 30 cities within the last three months.
In a recent interview with CNBC's Jim Cramer, CEO Kevin Johnson said the company is "adapting rapidly to shifts in consumer behavior, whether it's the embrace of the digital lifestyle, whether it's more amplifying the need state of convenience or the desire for more personalized premium experiences."
Uber CEO Dara Khosrowshahi, who joined Johnson on CNBC, added that during its Miami delivery test, it saw that "being able to get coffee, croissants, etcetera, in under 30 minutes at your desk or at your home was just a home run."
Why Uber Eats out of the other players in delivery? Johnson said the two companies had a shared view of integrating technology into the stores.
"When we prepare beverages, we know how to prepare it at the exact temperature so by the time they're handed to their customers, they cool down a bit, and they are the exact temperature as if you were in the Starbucks store, handed to you from the barista," he added. "So we are using technology and we're using the learning that our partners and stores have had in China."
Both companies declined interview requests, but an Uber spokesperson said, "We've been delivering Starbucks out of 100+ stores in Miami since August. Our average end-to -end time is less than 25 minutes."
Khosrowshahi said new technology and the rapid growth of delivery has forced Uber to raise its game, but that these changes continue to create opportunities to create new experiences for consumers at home and work.
"What's amazing is what used to be delightful five or six years ago, it has now become ordinary. Right? Five or six years ago, you push a button and you can get your food within an hour, it's awesome. Now, if you don't get it within 35 minutes, 'What's going on?'" she said.