Slice, the New York-based delivery platform focused on pizzerias, has added former Focus Brands president and COO Kat Cole to its board of directors. Focus is the parent company of Auntie Anne's, Cinnabon, Jamba, McAlister's Deli, Moe's Southwest Grill and Schlotzsky's, among others, and this move is the latest sign that delivery-focused upstarts are gaining legitimacy among traditional restaurant operators.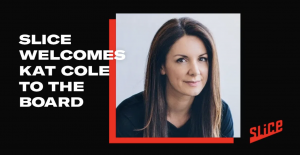 In announcing the addition, Slice said Cole "has an impressive background as a strategic leader with deep experience with omnichannel consumer brands, global expansion, restaurant operations and franchising."
Cole spent the last decade in progressively larger executive roles at the company, first as the president of Cinnabon, then as group president of Focus Brands overseeing licensing, manufacturing, and CPG, and finally as chief operating officer and president of Focus Brands for the last four years.
As COO, she was responsible for all seven of its global brands: Auntie Anne's, Carvel, Cinnabon, Moe's, McAlister's, Schlotzsky's, and Jamba, as well as the licensing and international divisions responsible for building the brands in more than 55 countries.
Cole is credited for driving the turnaround of the Cinnabon business, building that franchise and its multi-channel business into a $1B brand, and for leading strong teams, innovation and organizational change to support the growth of the company, franchisees and brands.
"We are so pleased to have Kat join the Slice board. Her significant experience growing companies will undoubtedly help Slice achieve our long-term business objectives," said Ilir Sela, founder and CEO of Slice. "She's a powerful operator and change agent with industry-specific experience and a deep understanding of how technology is reshaping restaurants and retail. She will bring valued expertise to Slice—especially as we double-down on our growth and Slice Accelerate."
Slice recently announced its 2021 goal of $1B in gross merchandise value (GMV) at the recent Goldman Sachs Private Innovative Company Conference, signaling the company's rapid growth. In June 2020, Slice announced that it had surpassed $1B in cumulative sales since its founding in 2010.