During its annual Make Conference, Slice unveiled a proprietary point-of-sale system called Slice Register for the more than 15,000 independent pizzerias on its platform. The company says this new product will put the same tech tools and data insights that Domino's franchisees receive directly into the hands of independent pizzeria owners. The company also announced the launch of a new rewards program for its customers.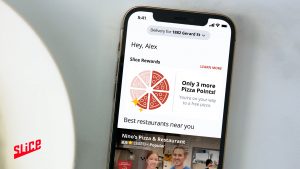 "Slice Register and Slice Rewards are the latest tools we're offering our massive network of independent pizzerias to help these local businesses thrive amid the challenges of big pizza competition and predatory delivery apps," said Slice CEO and founder Ilir Sela. "The more Slice can help each local pizzeria be more efficient and digital first, the better the experience consumers will have and the more orders they'll confidently make. It's a win-win. We know from our own data that the more closely we work with each shop owner, the more successful they will be."
Slice Register keeps all orders—online, in-person, phone—in one place while optimizing menus and operations so local pizzerias can work smarter, engage their customers and boost their profits. With this new product, Slice makes it easier for those local shops to sell to their consumers by increasing the amount of and accuracy of customer data that each restaurant has available to them.
The announcement of its loyalty platform comes on the heels of Slice's acquisition of point-of-sale software company, Instore. With ten years of experience developing software for merchants, former Instore CEO Matt Niehaus and his team joined Slice in late 2020. Building on Instore's functionality, Slice Register is centered around payments, integrated online and offline ordering, labor management, consumer engagement and features designed to drive revenue growth for shops.
"Pizza as a category is unique," said Matt Niehaus, former CEO of Instore, now senior vice president of payments at Slice. "Pizzerias have a unique set of ordering requirements and a complicated menu. They benefit from the move to digital more than any other restaurant category due to the importance of delivery and repeat complex orders. In my experience, most point-of-sale systems do a poor job serving pizzerias because they're focused on a wide range of cuisine and other retail businesses. Every feature we've developed for Slice Register is specifically designed for independent pizzerias and what they need to thrive."