DoorDash, the largest U.S.-based delivery platform, publicly announced the launch of its Restaurant Advisory Council, which is an ongoing program to gather feedback from restaurant operators on platform functionality, policy matters, future products and even the hot-button topics of delivery fees and customer data.
The Restaurant Advisory Council, which was first assembled last summer, included 12 small business owners, chefs and operators across the United States and Canada, all of whom are current partners of DoorDash. Council members served a six-month term via monthly group calls and an ongoing Slack channel. DoorDash is currently finalizing its second six-month term with an entirely new set of restaurant operators.
Katie Witman, DoorDash's senior policy advisor, took the lead on the council and said her finance and operations background was ideal preparation to build more formal lines of communication between a diverse set of operators on the company's expanding platform of offerings and services.
"It's very critical to me to maintain that line of communication and get into that level of detail with our partnership and customers in order to actually build a solid product that's going to be around for generations," Witman said. "We know how we have to evolve our business to be good for our customers, but then there's also the political angle of what regulators are doing that's forcing us into change."
Witman said involvement in the council reached the highest levels of the company, with DoorDash CEO Tony Xu participating in the first meeting. That involvement also included the company's chief operating officer, head of marketing and chief revenue officer, among many others.
The group discussed ways of improving the DoorDash merchant portal, beta testing of a new customer feedback feature, delivery packaging best practices and suggestions from operators that led to an expansion of the company's Winter Grant Program from $2 million of seasonal merchant support up to $10 million.
Witman said the group also contributed to the exploration of real-time COVID testing for Dashers, which Witman clarified is "something we're exploring, and that feedback was very helpful and interesting to hear."
"The advisory council has been something I've been working on, and it means a lot to me," she added. "We really care about our merchants, I care about our merchant partners, and I want to make sure their voice is heard and without these partnerships we're not a business, so this is critical to us."
Charisse McGill of Lokal French Toast Bites in Philadelphia said her involvement in the Restaurant Advisory Council meant more than just having a voice in the future of DoorDash. As a relatively new restaurant operator with a focus on outdoor events rather than a brick-and-mortar restaurant, it was also helpful to help her learn more about the delivery business and plan the future of her company.
"Pre-pandemic, I'll be honest, I had dreams of becoming the Auntie Anne's of French toast in malls and high-traffic areas, but now I don't think I want to be," McGill said. "Now, I'm cool with being the Charisse of French Toast Bites."
Staying afloat after recently leaving her previous "day job," McGill said her experience has been one crash course after another in recent months including dealing with social unrest over the summer that also impacted her business.
Being part of a diverse group "challenged me in so many ways," and she said she was pleased to bring her unique perspective as a black-owned, woman-owned, mobile-based business to the group of operators. Her tenure also included an on-stage interview with Tony Xu as part of the Main Street Strong Conference where he told her "don't hold back, this isn't a commercial for DoorDash."
"I had to challenge myself to get out of thinking, just because it isn't an issue for me doesn't mean it's not an issue for the greater good," McGill said. "It helped me have a bird's eye view of the industry as a whole and how I can contribute to make it better."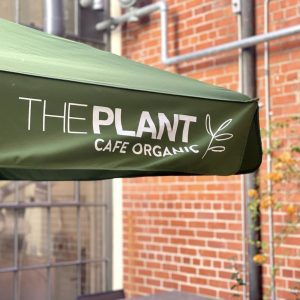 Mark Lewis, of San Francisco's Plant Cafe Organic, said he's a "visual guy," so meeting with DoorDash and other operators over Zoom was an ideal format that led to him learning about some of the solutions other restaurateurs were employing to survive this extended crisis.
Lewis enjoyed sharing his feedback on new tipping policies, and said it also helped him learn the difference between the various different products, from Drive to Convenience, and ways restaurants can utilize the expanding DoorDash feature set.
"I don't think there was ever a moment when things got heated—there were times when frustrations were intelligently conveyed," he added. "Frustrations got heard and got met with, and I think the council is really effective."
Looking ahead as the second group prepares to get started, Witman said she is focused on speeding the pipeline between restaurant feedback and DoorDash's product planning team.
"We've learned a lot in this first session, we've built restaurant relationships, we're learning and we'll evolve this program through the future," she said. "It's been an amazing experience and the best is yet to come."