With old-school catering still sidelined and facing an uncertain future due to the pandemic, the workplace meal-delivery scene is heating up with New York-based Sharebite, which recently inked some high-profile corporate partnerships for its lunchtime delivery service that puts a big focus on charitable giving.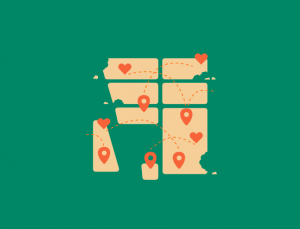 Sharebite was created after its co-founder Dilip Rao had a near-death experience after being hit by a car while walking down the street. Rao called the accident a personal inflection point that motivated him and co-founders, Mohsin Memon and Ahsen Saber, to accelerate plans to do good for the world after years in the financial-services realm.
After some exploration, the founders settled on the workplace meal-delivery category, which they saw as having the potential to help large employers facilitate feeding their employees—subsidized or not—while also providing an opportunity for those companies to integrate charitable giving into every lunch hour or group meal in a way that wouldn't be overlooked by employees.
Sharebite donates 2 percent of each order placed on its platform to City Harvest, a New York-based nonprofit that has helped feed more than 1.5 million people. Since its founding in 2015, Sharebite has donated enough to provide nearly 650,000 meals to residents throughout its home turf.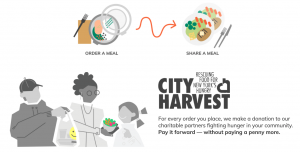 For office managers planning an event or employees ordering lunch, the Sharebite system is similar to Foodsby's model where an email goes out every morning giving a choice of three to five restaurants that are "specifically curated based on your own staff's needs and what your office manager told us," Rao said. Individually bagged and labeled meals are then delivered as part of one bulk order by either the restaurants themselves or third-party providers that are integrated into the Sharebite platform.
"The cookie-cutter approach that companies had tended to take was, 'Oh look we're going to have a tough time recruiting people, so why don't we donate some money to charity and send a bunch of emails,'" Rao said of the Sharebite's mission-driven focus. "Our view is slightly different. These companies already pay for their employees to order food and they're missing out on a critical branding opportunity at a moment when you have their undivided mindshare."
Sharebite has grown its own headcount to approximately 50 employees as it looks to consolidate the workplace meal-delivery category and scale up its own resources in preparation for its next wave of growth—partially fueled by the many changes brought into the office and catering markets because of the pandemic.
Calling the catering market "generally a broken one to begin with," Rao said workplace eating habits are unlikely to go back to their pre-pandemic forms. Because of that, he said, the company's inherently spaced-out model is well suited to whatever comes next as companies will likely continue to limit access for outsiders entering their office spaces.
Rao pointed to Seamless, which merged with Grubhub in 2013, as its only competitor in the workplace meal space and added that "prior to us, they were a monopoly." He bristled when asked if ezCater or Foodsby were direct competitors.
"Our business is different, not just from those companies but companies in general, we're less of a service-oriented business and more of a technology-oriented business" Rao noted. "The only thing we have in common is that people use our service to order food for their office."
Sharebite has grown its corporate client base by more than 400 percent in the last year, and has secured exclusive relationships with major New York law firms, including Cravath, Sullivan & Cromwell, and Willkie Farr & Gallagher, along with high-profile investment banks, private equity and hedge funds, tech companies and real estate firms.
The company announced a partnership with WeWork in late December to install Sharebite Stations at four of its shared office locations in Manhattan and Brooklyn. As this story was headed for publication, the company announced another partnership to bring Sharebite's technology into a new crop of offices with HqO, an operating system for commercial office buildings.
In recent years, Sharebite moved beyond its Big Apple home, with operations now in Washington, D.C.; Chicago; San Francisco; Charlotte, North Carolina, as well as smaller cities like Irvine, California, and White Plains, New York. Going forward, the company plans to prioritize the densest cities with the highest office worker populations.
Restaurants on Sharebite are charged a commission that begins at 12.5 percent, with Rao adding that the average commission range is between 14 and 15 percent. He stressed that there is flexibility in the rates it charges, adding that "we try to work with the restaurant, it's not 'This is the price, take it or leave it.'"
Compared to third-party delivery brands like Uber Eats and DoorDash, which typically charge restaurants anywhere from 20 to 30 percent per order, Rao said Sharebite's lower cost of operations mean it can "spread the wealth" to its corporate clients and end users.
Whether it's broad changes to workplace behavior, the grave societal impacts of the pandemic or opportunities to help restaurants profit in this era of outsourced convenience, Rao said everything at the company comes back to its charitable efforts.
He stressed that this is the bedrock of the company, rather than a headline-grabbing footnote, like he sees in many corporate do-good initiatives.
"Sharebite is not just a food ordering platform, there's a much broader narrative to the work that we do and that narrative around helping align those incentives where the private sector undertakes the burden of social good," he added. "It really is something that is much more than, 'hey, I use this to order food.' It's like, I use this and I have a quantifiable impact on society by doing nothing different than I would have otherwise done, which is coming to the office and ordering food."