After first introducing Grubhub Direct in 2021 as a commission-free platform for smaller, independent restaurants, the delivery provider decided to waive some of the fees for restaurants using this white-label service.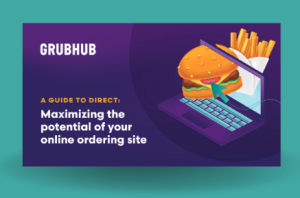 Grubhub Direct allows restaurants to create, customize and go live with a native ordering website and loyalty solution in a matter of minutes. Menu descriptions and imagery, along with other key information, is ported over from information already hosted on the Grubhub marketplace app, which makes it fast to create a branded website that restaurant operators can create and tweak themselves.
Direct has always been marketed as a commission-free solution, but in the coming weeks those delivery fees ($1.99 per order) will no longer be charged for orders delivered by Grubhub drivers.
The company said the pricing update, along with two new features added to the platform, are the result of gathering feedback from its merchant partners.
"A robust digital footprint is key for merchants as they look to reach more diners across ordering channels," said Kate Green, vice president of restaurant services and innovation at Grubhub. "Our restaurant innovation team is hyper-focused on gathering and analyzing feedback from merchants and data from our platforms. We put these insights into action to further support restaurants' goals by building products and tools that help drive their business forward. We're excited to strengthen our offerings for merchants and to serve as an even better, more valuable partner."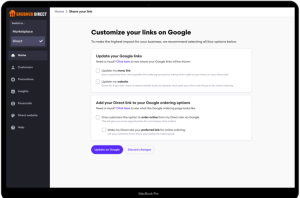 Grubhub is also enabling merchants to drive more commission-free orders and reach more diners with a new Guest Checkout function that allows diners to order from a merchant's Direct website without having to create a Grubhub account. This removes a barrier to placing an order at checkout, making it easier for new diners to order and removing a barrier for restaurants to generate more sales.
In addition, Grubhub merchants can now add their Direct ordering site to their Business Profile on Google Search and Maps, as well as selecting that as their preferred ordering channel via its integration.
"We're making it as easy as possible for merchants to promote their Direct site with just a few clicks within their Direct dashboard," the company said in a press release. "With this integration, we're putting the control in merchants' hands to get greater visibility with hungry diners searching for restaurant options, driving more orders without commissions."
From internal testing, Grubhub found that, on average, Direct merchants that list their Direct site on their Google Business Profile receive "nearly 20x the orders" compared to those who don't list their Direct site on their Google profile.