A new Toronto-based food delivery app "Cookin" brings talented cooks' homemade creations right to consumers' doorsteps.
Launched in October of 2022, Cookin enables food creators to turn their kitchens into sources of economic production, while providing consumers with ready-to-eat, authentic meals.
The platform will soon be coming to the U.S. after securing more than $17 million in funding, via Relay Ventures with support of Mistral Ventures.
How it works:
Consumers open the Cookin app, type in their address and a list of local home chefs are displayed, along with descriptions and pictures of what diverse cuisines they are offering. The app also features background stories on the chefs, so users gain a better understanding of who is creating their next meal.
"Today for lunch I ordered a pasta dish made by somebody who got their recipe from their Nona in Italy and brought it to Canada, and right now they are preparing lunch meals out of their home kitchen and I am going to have the most authentic, unbelievable pasta dish from my office, said Morley Ivers, Cookin co-founder and CEO.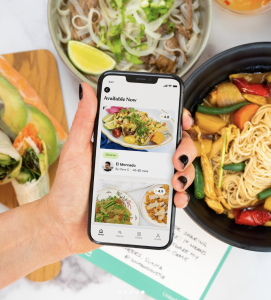 Food creators set their own hours, menus and prices. Orders are usually delivered within an hour or less, and there is the option to order ahead up to seven days. The platform leverages DoorDash and Uber's fleets to conduct the deliveries, and Cookin provides all of the technology, marketing, packaging and customer service needed for the service.
"Typically, our food creators are incredibly talented chefs who used to work in a restaurant or maybe they still do, but are looking to have complete freedom and flexibility to cook where they want, when they want and exactly what they want," said Ivers.
Since its launch, more than 6,000 meals have been ordered from the 62 chefs on the platform, and Ivers says more continue to apply.
"The reason we've had thousands of cooks apply, is they get to focus on one thing and one thing alone, which is cooking," said Ivers. "They put a lot of love and passion into their food and they put it up on the platform."
In addition, all home chefs must be certified food handlers, and their home kitchens have to pass an inspection process conducted by the platform.
Chefs can also utilize Cookin's "Cloud Kitchens"— spaces with commercial kitchens available to cook out of. These are located throughout the city, mostly inside churches.
When it comes to revenue, chefs keep 80 percent of the order price, or 70 percent if they use a Cloud Kitchen. Consumers are charged a 10 percent service fee including delivery.
Lookin' ahead, Cookin plans to expand to the U.S. in the coming months, kicking off in Dallas followed by Miami. The startup's goal is to be in 17 cities by 2025.
Cookin is not the first to try this delivery model. Similar company Woodspoon has connected home cooks and consumers in the U.S., in cities like New York since 2019.
But Cookin is pushing for growth amid a sector slowdown and after the delivery startup boom related to the pandemic. Ivers notes the company's funding was "accumulated post the nihilistic era of the past couple years" and says that with the fresh set of funding, they are ready to "dramatically capture market share in the United States."