Just Salad, a fast-casual franchised restaurant brand, has launched its Housemade meal kit brand that it's billing as a "no-commitment" meal kit and grocery brand with a focus on less waste and unnecessary packaging compared with other meal kit providers.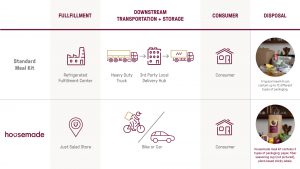 The new service is available within the delivery range of all of Just Salad's locations in New York, New Jersey, Philadelphia, Chicago, and south Florida. Housemade offers a range of zero-prep, one-pan meal kits in zero-plastic packaging, along with grocery staples and prepared foods from the existing Just Salad menu.
Entering a highly competitive space, Housemade says it is reinventing "what a meal kit can and should be," with a number of unique selling points that include zero-plastic, meal-kit packaging that's recyclable or compostable, 60-minute deliveries with no scheduling required, the option of single-serving portions and zero prep—meaning no more veggie chopping—that most users can create in 15 minutes or less.
"We're launching the next generation of meal kits," said Just Salad CEO and Founder Nick Kenner. "With 14 micro-fulfillment centers across five major markets, we can offer unparalleled flexibility with 60-minute deliveries and no commitments. We've been able to go above and beyond to provide the most sustainable meal kit packaging out there."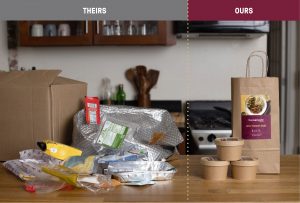 Housemade's menu includes seven one-pan recipes, like the Buffalo Chicken Bowl and Taco Tuesday Bowl. The variety includes two vegan kits and one with plant-based Beyond Beef. The new offerings evolved from Just Grocery, a service the company launched last April to provide salad meal kits, groceries and pantry staples.
Housemade will also carry an assortment of everyday groceries and greens.
In contrast to mail-order meal kit brands, Housemade says its kits use 91 percent less packaging by weight. Recipe cards contain explicit container disposal instructions, and the product labels are water soluble. That means no cardboard clutter, no dry ice and nothing that needs to go to landfill, the company said.
Since 2020 "swiftly and substantially changed the way we all shop and dine," Kenner said its new offering is intended to alleviate the headaches of planning meals and ordering groceries.
Housemade is available at www.gethousemade.com with meal kits priced between $10.49 and $11.49 per serving. Its meal kits are also available on Grubhub and UberEats.