If you're like me, those Blue Apron and HelloFresh commercials with fancy produce flying around, symmetrical smiles and bustling dining rooms full of friends confuse me on several levels. I can never wrap my head around non-cooks who like to cook, but it's a thing—and a growing one according to recent industry research from Packaged Facts, which is a research firm focused on consumer goods and service industries.
Its latest report, the firm looks back to the first meal kit delivery services emerging in Sweden back in 2007. The concept of offering easy, healthy, socially-minded meals still makes a lot of sense, even as Blue Apron's stock has continued its epic swan dive.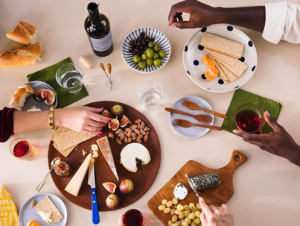 According to its research, Packaged Facts reports that meal kits captured $2.6 billion of sales in 2017 and are expected to grow an additional 22 percent by the end of this year for a thriving total of $3.1 billion. It predicts growth will steadily decline from these double-digit gains, so something closer to single-digit gains by 2023.
Entitled "Meal Kits: Trend and Opportunities in the U.S., 3rd Edition," the brand's researchers anticipate the meal kit subscription market will mature rapidly as other options reach the scene, including one-time online orders from meal kit providers, online orders from grocery brands and in-store sales.
Longer term, Packaged Facts anticipates more traditional stores will begin offering meal kits as a product, rather than a service, which will contribute to the stabilization it anticipates in the category.

"The meal kit market is highly dynamic and prone to fluctuations, with the top meal kit providers falling in and out of favor since their introduction in the past few years," says David Sprinkle, research director for Packaged Facts. "Further complicating things, market expansion is expected to be much more reliant on alternative purchase venues than the traditional subscription delivery model due in part to the convenience and flexibility of online shopping."

Sprinkle added that many meal kit companies are struggling to attract new customers and main existing ones, which are the primary factors behind the category's lackluster reception with the investment community.
"These challenges demand that meal kit companies tweak their business models and find alternative ways to reach customers, as the potential market for meal kits as a product is much larger than the interest in meal kit delivery services as they currently exist," Sprinkle said.
The report adds that online grocery shopping has made consumers more comfortable with the idea of ordering fresh food, which is a boon to the category. Zeroing in on the biggest providers in the space, however, Packaged Facts adds that Amazon is a global risk for the meal kit pioneers.
Welcome to the club, meal kit providers.
More information is available at: https://www.packagedfacts.com/Meal-Kits-Trend-Opportunities-Editon-11984597/.