Collecting, integrating and analyzing data continues as a theme in the restaurant tech space, and Chowly is the latest player releasing a new tool that gives restaurants greater control and insight over the delivery side of the business.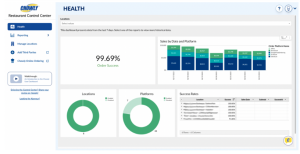 Chicago-based Chowly's new Restaurant Control Center was released this week, billed as a new tool that serves as a centralized hub for integrations and claims to empower restaurants with consolidated data, business insight and greater control over their long-term growth.
"Chowly's vision for the Restaurant Control Center is to empower restaurants of all sizes to make actionable decisions that will have a tangible impact on their bottom line," said Chowly CEO Sterling Douglass. "We're giving tools to SMB and independent restaurants that put them back in the driver seat for their off-premise business. They can increase sales with a few clicks of a button and more tightly manage operations that ultimately improve their guest experience. And we're just getting started with these improvements."
According to a press release, Chowly's Restaurant Control Center's key capabilities include:
Access to consolidated order data across locations and delivery platforms, allowing restaurateurs to make both real-time tactical and long-term strategic business decisions. This allows them to see total sales at a glance, order cancellations, average basket size by location, and identifying errors and roadblocks to improve performance all in one place.
Insights to optimize sales and boost revenue and growth, allowing restaurateurs to strategically adjust what is offered, to whom, and through which platform. This includes sales trends reports, insight into which ordering platforms and restaurants are performing best, and identification of top-selling items. It also gives control for setting up-charge percentages by location or ordering platform, which is Chowly's most popular feature to date.
Advanced features to fine-tune restaurant operations, putting restaurateurs in control of delivery orders. This includes pausing and unpausing third-party platforms to manage volume during peak business hours, updating and syncing the POS menu with delivery channels on demand, and setting pick-up and delivery prep times for locations and online digital ordering platforms.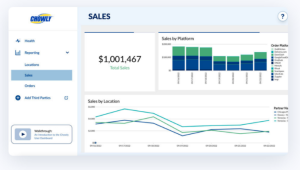 "Chowly's new Restaurant Control Center provides the features we need to improve our revenue and customer experience," said Domenick Montanile, owner and operator of Venezias Pizzeria. "Managing multiple restaurants and delivery platforms can be chaotic, but Chowly brings us the control and insights we need. Out of the box, we were able to improve our third-party vendors' reconciliation process with our POS."
This launch follows the company's recent acquisition of the digital guest experience platform Koala to accelerate Chowly's mission to simplify technology for restaurants of all sizes.
The combined business now represents more than 3,000 restaurant brands and 16,000 locations, integrating over 350,000 orders per day across the US. In the coming year, Chowly says it will continue solidifying its position as an industry leader by rolling out a product combination that the restaurant space has yet to see for SMB brands.