Divert, a Massachusetts-based technology firm that turns food waste into renewable natural gas, is gearing up for nationwide expansion via a $1 billion infrastructure development agreement with Canadian energy company Enbridge.
Alongside the development agreement, the food waste startup secured $80 million in growth equity from Enbridge as well as $20 million led by current investor Ara Partners.
Founded in 2007, Divert's anaerobic digestion facilities transform wasted food into carbon-negative renewable energy and prevents items from being dumped into landfills. Its technology also provides companies with data on their wasted food so they can take preventative steps to waste less and donate more.
The investment will accelerate Divert's expansion of facilities and the goal to offset a potential 400,000 metric tons of carbon dioxide annually. The company plans to scale its facilities to every major geographic region in the U.S. to be within 100 miles of 80 percent of the U.S. population in the next eight years.
"Enbridge's agreement with Divert represents a historic commitment from the company in advancing technologies and solutions that achieve a cleaner energy future," said Caitlin Tessin, vice president of strategy and market innovation at Enbridge. "Divert has emerged as a leader in creatively managing wasted food and our partnership aligns with Enbridge's priorities in pioneering RNG as an effective solution to achieve net-zero greenhouse gas emissions."
According to Divert, the U.S. generates more than 100 million tons of wasted food annually, with more than half ending up in landfills or incinerators. The company adds that food waste contributes 8 to 10 percent of global greenhouse emissions and that retailers alone waste $25 billion in food in the U.S. each year.
Divert's customers include large players in the grocery industry including Target, Kroger, Albertsons, Ahold Delhaize and others.
From slurry to energy
How it works: food waste is collected from retailers, brought to Divert's facilities and placed in bins with an RFD tracking label. The unsold food runs through an analytics system, with machine learning and data science identifying trends to report back to the retailers.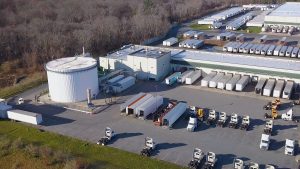 The food material is then liquified, filtered and purified before being processed into a clean food slurry, which is eventually turned into biogas. Equipment removes impurities from the biogas and upgrades it into pipeline-quality renewable natural gas to meet utility company standards.
In an email to Food On Demand, Divert CEO Ryan Begin wrote that most of the food waste the company sees is due to human behavior or error, as shoppers often overlook food with blemishes or those not in the right shape.
"Retailers don't want to be perceived as a secondary produce retail location, so naturally this collective behavior leads to food getting unnecessarily tossed out," Begin stated.
Divert travels to its customer's grocery stores often to understand where and why food is being wasted.
"In one example, a pallet of food is delivered to a grocery store and sits on the loading dock for four hours instead of the recommended 45 minutes," Begin wrote.
In another example, the Divert team noticed an associate throwing out one in every six heads of lettuce.
"When asked why, they replied 'I was told to throw out anything with a brown spot on them' referencing the bottom stem of the lettuce, which is always brown," Begin wrote. "He knew throwing them all away was inappropriate but made the judgment call that one out of six was acceptable. This is where appropriate training led by data-driven insights will be critical to correcting human behaviors and misinformation, and fighting wasted food."
The recent funding comes on the heels of significant growth for the company. Divert has expanded its retail customer base by nearly 35 percent in 2022 to include 5,400 retail stores, with over 1,000 additional stores contracted in 2023.