Wow Bao has expanded its nationwide grocery presence with Hissho Sushi, which has over 2,000 sushi counters inside grocery stores. Wow Bao's potstickers, egg rolls, rangoon and steamed buns are now available in over 1,000 locations in 30+ states with 300 additional regional locations opening this summer.
Wow Bao's items are available alongside Hissho Sushi, each packaged containing two items and labelled with reheat instructions. Select grocery locations will serve the steamed buns and foods hot and ready-to-eat.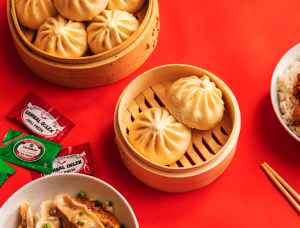 This is a first-of-its-kind endeavor for Wow Bao, teaming up with another brand to offer its products in the fresh sections of stores. The company's products are already present in the frozen foods sections in over 300 grocery stores in the Midwest.
Based on the popularity of Wow Bao's menu items, Hissho Sushi plans to add more locations offering Wow Bao, and is considering adding new menu items in the near future.
Wow Bao President and CEO Geoff Alexander predicts like-expansions to accelerate.
"We believe there are opportunities to do these sushi counters in office buildings, college campuses, in stadiums," said Geoff. "We think that this is a real viable way to continue to grow."
The partnership marks the Chicago-based company's latest move in growing its omnichannel presence. The mostly virtual brand is deployed in over 700 virtual locations in a variety of kitchens from various brands including Ruby Tuesday's, Fazoli's and ghost kitchen providers. Wow Bao also launched its hot vending machines last year, and most recently, began ecommerce with Walmart and Amazon.
"What Wow Boa has always done is constantly find ways to innovate and evolve. We started as brick and mortar, we still have brick and mortar, but we've found many ways to create new revenue streams for both our businesses and partners to help them grow," said Geoff.
Amid the ongoing growth across sectors, Wow Bao continues to invest in new ways to engage customers, including dipping its toes into the metaverse.
Geoff says the company is getting close to the minting of its NFT loyalty project, which he calls an "extension and evolution" of its Bao Bucks rewards program—the first virtual restaurant rewards program.
The NFT-passes will grant access to Wow Bao's membership club, where the company will sell three tiers that each unlock levels of unique digital and physical rewards, including monthly giveaways and exclusive discounts. Unlike traditional non-fungible-tokens (NFT) passes do not require a crypto wallet or cryptocurrency and can be purchased with a credit card.
Geoff says the launch of NFT loyalty can be expected within a few weeks to months.