DoorDash is moving beyond restaurant meals and into convenience store products with the launch of its new Convenience vertical, giving customers the ability to order household staples for delivery or pickup, including household products and ready-made meals. The new offering has been in the planning stages at the company for a while, but was accelerated giving what's happened with COVID-19 quarantines and restrictions.
The largest U.S.-based third-party delivery brand, DoorDash has partnered with more than 1,800 convenience store locations across the country, including mega-brands like 7-Eleven, CircleK and regional stores like Wawa and Casey's General Store.
To use the new service, users plug in their address to find what's available in their surrounding area. Products include ice cream, candy, chips and other snacks, as well as drinks, frozen foods, basic household essentials, grocery staples like dairy products and eggs, as well as certain over-the-counter pharmaceuticals and personal-care items.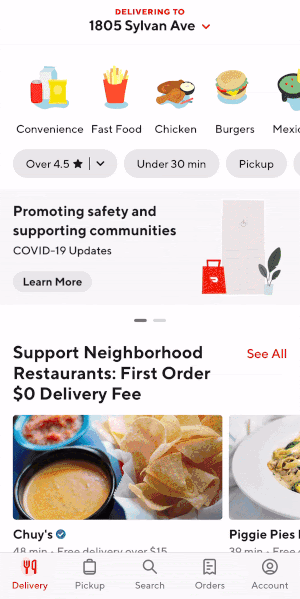 "We're hopeful that this new category will open up even more opportunities to our entire community—increasing sales for the stores on our platform, providing even more convenience to our customers, and offering more earning opportunities to Dashers, all during a critical time of need," said Mike Goldblatt, DoorDash's head of grocery partnerships, in a blog post announcing the new service.
While convenience stores aren't generally known as serving healthy options, the entire industry is seeing a shakeup as more delivery options and better food sweeps through the industry, much like similar shake-ups in the adjacent restaurant and grocery industries.
Bringing convenience stores into the third-party mix could help reduce virtual food desserts for customers in areas without direct access to grocery stores and related delivery services. It's a wise bet that more third-party delivery services will enter the fray as the convenience store industry improves its game across the board.