Wix.com, a platform to create, manage and grow an online presence, announced an extended integration with Square allowing restaurants to easily sync their Wix Restaurants site with their Square accounts. The move is intended to streamline online ordering directly from the Wix platform to run operations more efficiently.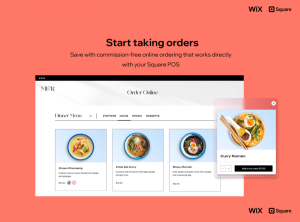 Restaurants using Square for Restaurants or Square POS can manage their catalog, including categories, items, descriptions, images, and full menus, directly from the Wix platform. This enables restaurant owners to start selling faster by reducing the efforts of inputting information into multiple systems. Updates and changes made on Square are automatically synced to Wix.
Furthermore, orders placed through Wix can be sent directly to Square's system. This provides restaurant owners with the ability to seamlessly connect their Wix online ordering with the existing hardware they have to streamline their workflow, increase efficiency, and removes the need for separate tablets. Sales reports are also automatically consolidated from the two systems allowing restaurants to easily view sales from their Wix website directly within their Square Dashboard.
"We're continuing to open our platform and welcome powerful integrations that can help business owners thrive," said Adam Garfield, VP of Wix Restaurants. "Many restaurants face operational challenges juggling multiple channels to orchestrate online and in-house orders, delivery services, the kitchen, and more. Our integration with Square brings a solution to help restaurants get back time that would have been spent on duplicative efforts from using multiple platforms. Now, restaurants can focus on providing quality service to more customers, generating more revenue, and growing their business."
"Wix's expanded integration with Square gives restaurants the combined power of two best-in-class platforms. Restaurants can now synchronize their online ordering between the two to reduce time-consuming, manual tasks, and streamline their operations," said Vijay Vachani, global head of partners and developers, Square. "It's now easier than ever for restaurants who already have websites on Wix to shift their on-premise operations to Square."
"This integration changed how we run our restaurant because we can always have orders ready on time no matter how busy we are," said Wen Lin, co-owner and co-founder of Brady's Sushi and Hibachi. "Data entry is now automatic, eliminating the need for a dedicated employee to manually enter orders each shift and reducing errors. The integration has truly improved our customer satisfaction and the wait time on our busiest nights dropped from 45 minutes to 25-30 minutes."
The new integration is available to Wix Restaurant users based in the US, Canada, UK, Ireland, and Australia.