During a media event unveiling a reshaped commission structure for restaurants and other retailers, DoorDash COO Christopher Payne had a bold message for merchants on the company's platform: "You'll never have to pay 30 percent again if you don't want to." The company's new three-tiered pricing model starts with the Basic plan that charges restaurants a 15-percent commission and shifts a higher portion of the delivery's cost onto consumers. Other plans which bring higher levels of service, better in-app visibility and expanded delivery zones are at 25- and 30-percent fees for merchants.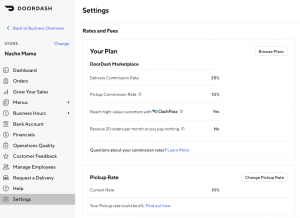 DoorDash's new pricing immediately goes into effect for restaurants with 75 or fewer locations, and is the cornerstone of several additional changes rolled out by the largest U.S.-based delivery and last-mile logistics provider. Restaurants on DoorDash or Caviar can change their pricing plan whenever they want, but any changes take five days to go into effect.
The company also lowered its pickup commissions to 6 percent and has made its commission-free online ordering product, Storefront, free aside from payment processing fees for all restaurant partners.
Given DoorDash's status as the market leader in the U.S. delivery space, these shifts will likely ripple across the industry in terms of pricing from competing delivery providers, but also cities that have placed municipal fee caps on restaurant delivery providers.
"On a personal note, I want to share how grateful I am for the trust our restaurant partners have shown in us … and what is now our shared history," Payne said before turning the microphone over to Katie Eagan, DoorDash's director of business-to-business product marketing, who explained why the company was making these changes at this particular moment.
"In short, our partners told us they needed a change," Eagan said. "Throughout this world we have listened through our partners through programs like our Restaurant Advisory Council and … regular conversations with partners and in-depth interviews and qualitative surveys with thousands of rest operators. We learned that they need more flexibility and choice in the products they use and the price points they use them at."
She added that these changes are designed to give restaurant operators more choices in terms of the amount of marketing assistance they'd like to leverage, how much of the delivery cost is passed onto customers, the size of the restaurant's delivery radius and whether they're interested in paying for prime placement on the DoorDash app, among other differences between the plans labeled Basic, Plus and Premier.

While DoorDash's new pricing structure is grabbing the most headlines, changes to the company's Storefront offering could be equally impactful to the industry. Storefront debuted last May and enables any restaurant to turn its own website into an e-commerce store. DoorDash eliminated its one-time setup fee, monthly software fees and per-order merchant delivery fees, meaning restaurants will now only pay a payment processing fee for all Storefront orders—and the service is now available to all restaurants in the U.S., regardless of whether they are partnered with DoorDash on its marketplace.
This would place DoorDash in direct competition to the many companies that have sprung up to help restaurants create their own in-house, native ordering experience to reduce restaurants' reliance on third-party delivery providers.
DoorDash brought in a handful of independent restaurant operators to share their experiences during the presentation, including Tyler Kaune, director of strategic technologies at LM Restaurants in North Carolina. He credited Storefront with saving some of the company's locations during the pandemic, and said it allowed the company to convert website traffic to online sales without any commission fees.
"With Storefront, DoorDash is taking what it has built over eight years and making it available for its small business partners, and now, with reduced fees. This is a game-changer for us and so many other independent restaurants who are looking to build their own online ordering platform."
Payne hosted a question-and-answer session with participants, including one who asked if the addition of the lower-cost Basic plan was a direct response to municipal fee caps that have been enacted in recent years—many limiting delivery commissions at 15 percent.
"The answer is absolutely no, it's not designed in response to legislation," Payne said, stressing that these changes were a response to the company learning that "one size fits all really doesn't work for restaurants."
Asked for clarification on increased visibility and how that varies between the various plans, Payne said visibility includes both how prominently a given restaurant is featured within the DoorDash app, as well as the size of the delivery radius meaning that a restaurant paying for a more expensive plan would be receiving access to a larger pool of customers, which costs DoorDash more.
"With Basic to Premier, it's a choice between balancing profitability and growth, and the restaurant can pick the appropriate spot," he added.
Investors were mildly pleased by the news, with DASH shares increasing from $153.85 at the market's opening on Monday morning to $160/share by the close of trading on Tuesday afternoon, roughly a 4 percent increase.
Here are the company's details on its new plans, including new Pickup pricing:
DoorDash Basic (15%):

Basic is the most cost-effective way for restaurants to offer delivery and pickup to customers on DoorDash.
Restaurants can continue to opt into additional in-app marketing programs as desired to reach even more customers.
This plan shifts a higher portion of the delivery cost to the customer and adjusts the delivery area for restaurants in order to ensure that Dashers continue to make meaningful earnings.

DoorDash Plus (25%):

Plus helps restaurants grow orders through access to our most loyal customers as part of DashPass, an expanded delivery area, and reduced delivery fees for customers.
DashPass is an industry-leading customer loyalty program. Restaurants who participate in DashPass get increased visibility in our app, and DashPass customers pay reduced fees when they order from participating restaurants. Because DashPass customers order more often, participating restaurants see increased growth.

DoorDash Premier (30%):

Premier helps restaurants maximize the number of new customers and the total volume they receive from DoorDash. It offers the lowest customer fees and the largest delivery area, in addition to the benefits of DashPass.
Additionally, DoorDash Premier comes with a Growth Guarantee. For all restaurants on the Premier plan that accept fewer than 20 total orders per month across Pickup, Delivery and Caviar, DoorDash will refund their full commission for that month.*

New Pickup Pricing (6%)

DoorDash is also reducing Pickup commission to 6% across all restaurant partners and plans so they can leverage the reach of the DoorDash Marketplace and connect directly with customers in their neighborhood. This rate includes payment processing.