A new report from research firm Second Measure shows growth for the overall U.S. restaurant delivery scene, with sales at national third-party delivery providers growing a collective 24 percent compared to the same period a year earlier. In addition, statewide locks also appear to be driving more Americans to try restaurant delivery for the first time, with 28 percent of U.S. consumers now well versed in the ways of online restaurant delivery.
With plenty of caveats in the way Second Measure collected its data through the end of March, the firm dove into market share, which showed DoorDash retains its lead with 42 percent of the U.S. market share. Grubhub is still in second place, with 28 percent of the market, followed by Uber Eats at 20 percent, Postmates at 9 percent, and Waitr at 2 percent.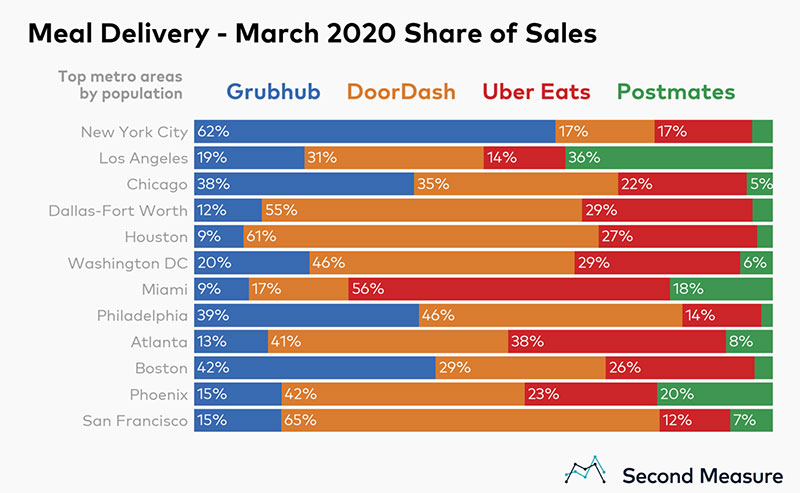 Second Measure's data shows that Grubhub is still the most popular provider in the major Northeast cities, while DoorDash is dominant in large Texas cities, while also approaching two-thirds of the delivery market in its California Bay Area home turf. Postmates is especially strong in Los Angeles, with 36 percent market share, and in Miami, where the fourth-largest national delivery brand comes in second to Uber Eats, which, in turn, has 56 percent of the total delivery spend in that city.
The trend of big delivery brands offering customer subscription plans also appears to be gaining traction, with 17 percent of Postmates customers now subscribing to its Unlimited plan that was first launched in 2016. At DoorDash, 14 percent of its customers have joined its DashPass subscription program.
Now for the caveats: Because of how Second Measure gathers its data, Grubhub's share doesn't include purchases made through its LevelUp and Tapingo subsidiaries. In addition, "some Uber Eats transactions are indistinguishable from Uber Rides transactions."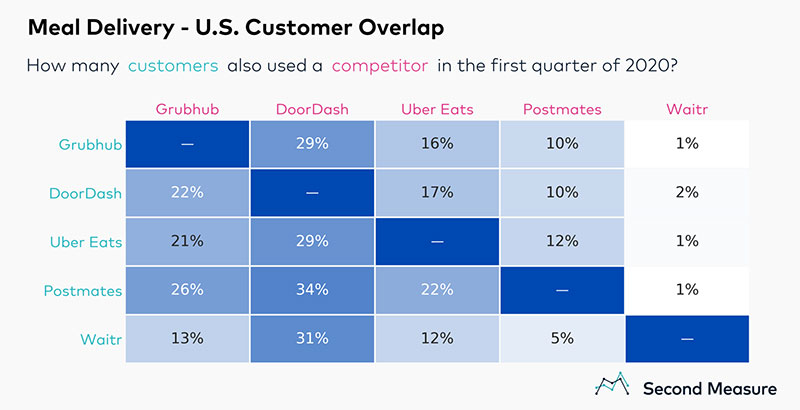 "As more restaurants form exclusive delivery partnerships, more diners are going to have to hop between apps to cover all their favorite takeout spots," the report concluded. "The least loyal customers, it seems, will also be the most well fed."
By only looking at numbers through the end of March, the longer-term impacts of the pandemic on the U.S. delivery landscape remain to be seen. That said, it's clear that plans to ready Postmates and DoorDash for initial public offerings are likely gathering as much dust as restaurants' dining tables across the country.