The topic of the Food On Demand Conference panel was translating data into top line growth, but with so much information at their fingertips, the chief technology officers at Blaze Pizza, Jack in the Box and Freebirds World Burritos all agreed they need to first understand what data matters to operators and can help them grow their business.
When there's a test of new technology or corporate wants franchisees to use a new tool, Chris Demery, CTO at Blaze, said if he talks to operators and if they won't use it, then it's time to stop and reconsider. And for Doug Cook, senior vice president and CTO at Jack in the Box, operations have to come first.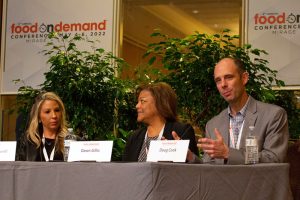 "We can drive traffic all day long with collecting data from our guests and personalizing offers to them," said Cook on the second day of FODC in Las Vegas. "But if we can't operate with consistency, with excellence, we're just driving traffic so we can lose them. And that guest is harder to get back."
Data and technology, he said, should first help on the operations side, such as with supply chain and inventory management, "to make sure they have what they need to deliver on the experience."
At Blaze, which has about 350 locations, data that's valuable to operators is data that helps them better forecast wait times and other factors impacting off-premises channels. "At our company, our biggest issue with 40 percent of our sales coming from off-premises is our ability to predict when our food is ready and when the guest comes into our restaurant for pickup," said Demery.
Blaze also aims to use data to understand and plan for surges in digital orders, and demonstrate to some operators who have what he called a "four-wall mentality" that they can drive sales by paying attention to these factors. By knowing "what's going out the door in delivery or carryout versus what is dine-in," Demery said, operators, general managers and others at the store level can manage the business by channel. For the data to be useful, however, it needs to be as near real-time as possible.
"Data is like a French fry," put in Niko Papademetriou, senior VP of sales & business development at point-of-sale company Qu. "It goes stale, it's disgusting and it's useless" after a certain period of time.
Giving operators the tools to make immediate decisions is a goal for Freebirds World Burritos, a Texas-based chain with about 60 units. The brand, said CTO Dawn Gillis, is implementing a new platform to give operators access to sales data on their mobile devices and the ability to compare daily and weekly sales over time.
Because nine out of 10 orders at Jack in the Box come through the drive-thru, the brand is investing in technology and using data to understand and improve performance. The includes knowing how many people are coming to a Jack in the Box and leaving because the drive-thru is packed. Jack in the Box is also testing a robot at the fry station.
"We're trying to run our restaurants with less folks and we're deliberately trying to figure out how to do it with more automation," said Cook of the test with Miso Robotics. "I think it's got real good potential ROI on it, just taking labor out of the restaurant and achieving our goals."