During its annual press event, Go-Get, Uber announced a round of updates and new features enabling family profiles and teen accounts, a phone number for riders to request a car without using the app, group grocery orders, video gift messaging and boat reservations, among others.
As a whole, the changes demonstrate creativity in extending and blending Uber's reach in ecommerce, vehicle reservations and coordinating group events while at home or on vacation.
Speaking later in the presentation, Uber CEO Dara Khosrowshahi stressed that "the tech you're going to see has been built by humans for humans," contrasting with the current societal interest in artificial intelligence. "Whether you're staying home or getting out there, we are building with humans for humans … understanding deeply their experiences and then building elegant technology to make everyday life easier—that's what Uber is all about."
This year's third-annual Go-Get event felt like a variant of ABC's Modern Family sitcom, with a multi-generational family planning a group getaway to Greece, a plot that served as the backdrop to introduce Uber's latest features.
For families, Uber now enables linking multiple Uber accounts together so families can pay for rides and deliveries from a centralized account while receiving real-time location and order updates. These are intended to make it easier to parent teens through their busiest years, while also making it easier to coordinate meals, groceries and rides for families that are always on the move, but not always in the same physical location.
The teen accounts allow parents and caretakers of 13- to 17-year-olds to save time, while giving them a safe way to make purchases and order rides that parents can verify and follow with live trip tracking. At any point, parents can contact a driver during a trip or reach a support team member to report or discuss an issue on behalf of their teen.
For parents of younger children, the company has partnered with car seat company, Nuna, to offer rides that come ready with high-quality car seats. Beginning in New York City and Los Angeles, Uber Car Seat allows parents and caregivers to request and reserve a ride with Nuna's RAVA car seat that carries little ones from 5 to 65 pounds.
Aimed at the opposite end of the age spectrum, users wanting to reserve a car can now call 1-833-USE-UBER to enjoy the same Uber experience, but without using the app. The calls are free of charge, with agents that speak English or Spanish.
To further build out its grocery delivery business, Uber Eats is now allowing users to build the "perfect grocery cart" that enables users to set deadlines, split bills and place recurring grocery orders, while also reminding family members or roommates to get their items added each week, as an example.
Groups can also now invite others to add their addresses on a group trip, with additional upgrades coming soon to automatically update the stocks and pick each person up according to the most efficient route.
On the retail side, video gift messages are now enabled, allowing gift purchasers to record unique video messages that can accompany their gift—an idea that's likely to spread to other parts of the vast ecommerce ecosystem.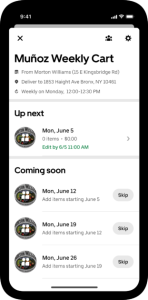 Several of the new features are aimed at vacationers, including those also traveling to the Greek islands, allowing reservations for up to 8 people to cruise to popular destinations around Mykonos. No word on whether boat reservations are intended for other aquatic destinations.
For personal or business travelers, Uber Central is a new feature allowing hospitality concierges around the world to arrange rides for guests using Central on Uber for Business. This means hotels, car dealerships and others can provide an elevated user experience and book rides on behalf of their customers.
After strongly pivoting to the Eats side of its business during the pandemic, this year's Go-Get was notable for how little its meal delivery offering was mentioned—although, much of its product updates further blend its ride-sharing and delivery businesses.