Round Table Pizza has been slinging pizza since 1959 under the mantra of sharing pizza with family and friends. Delivery has been a part of the concept for decades, but buffet and dine-in business has always been a key part of the business. Now, for the first time, an existing franchisee is operating with no storefront out of a shared-kitchen facility.
The company signed on with shared-kitchen provider CloudKitchens to make the initial foray into virtual operations.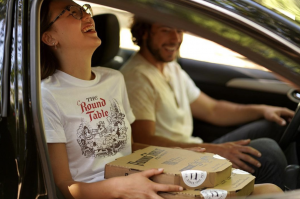 Chief Development Officer Chris Cheek said he's seeing lots of good traction across brands under its parent company, Global Franchise Group, which also includes Great American Cookies, Marble Slab Creamery and Hot Dog on a Stick. Even as things get back to normal for those mostly mall-based locations, he sees a more convenient future thanks to virtual operations.
"COVID only accelerated that demand for convenience and we don't see that wavering too much. The fact that you can go into an environment like this that is 100 percent delivery, you can open a store in the fraction amount of time for a fraction of the cost," said Cheek. "Your expectations would be you'd approach similar sales or at least sales that make it attractive—that's got to be part of any brand going forward."
Faster development with less cost is music to the Atlanta-based company's development department. He said the shared space falls around $50,000 to develop and opened in four to five weeks compared to $700,000 to $800,000 and 150 days for a traditional location. It's an enticing way to grow, but Cheek said for now he sees it as an ancillary location for strong franchisees only, not a way to grow single units or into new markets.
A lot of strategic work went into the new real estate option to make it work in a much smaller space. Cheek said they didn't cut corners on quality, franchisee Laticia Vasquez still makes dough in the 250 to 300 square-feet, but she is only selling the best-selling, core menu items.
"We shank the unit and the menu to our core items and differentiators initially to start," said Cheek. "You do want to make sure you're putting your best foot forward with products that guests are going to order without cutting corners on quality or prepping different than the store."
That was among the major focal points for the new space. In guest feedback, Round Table is seen as consistent and high quality. As consumers adapt to delivery-only spaces, Cheek said it was critical they didn't notice any difference in those traits. Vasquez said they have noticed some differences in her second location.
"The customers will tell you, they will let you know what they're thinking, like, 'Hey why aren't you offering sandwiches or pasta at this location,'" said Vasquez. "So far, we haven't had any issues, we let them know this is what we offer and nobody has argued."
She said that's been one of the most notable things in the first few weeks of operations. While the restaurant industry has been thinking a lot about virtual restaurants, consumers and even vendors are still getting acquainted with the idea.
"You have to explain the concept to everyone. Even after you explain it and you call them back it still hasn't quite sunk in and they still have a bunch of questions. That's the one thing I've learned, that this is new to myself and a lot of the vendors," said Vasquez. "So that's been a journey."
Given the limited space, she said there's just not room for a typical delivery, and where vendors should make the delivery was a bit of a head-scratcher too. They're used to making a delivery to a single address, not a suite within a shared space. She said most of those issues were solved fast and she just orders smaller deliveries multiple times in a week. If it gets really busy, she said she can just get a quick delivery from her brick-and mortar location seven miles away.
Vasquez has learned a few other things as well and there are some soft issues that she's working through. CloudKitchens, she said, is used to working with independent operators. She said there have been a few times that the franchise playbook or technology didn't mesh with the model, but nothing serious. When they cropped up, she said she was able to talk them through with the on-site staff quickly.
Less labor is a real perk. Vasquez said instead of 13 to 20 people, she needs just six for the new location, and all they do is cook.
"The great thing about the space is that at night they come in and clean the kitchen. So, you're not washing dishes like a brick-and-mortar store. The workload is, I'd say, up to 60 to 70 percent less," said Vasquez. "You have employees who are less stressed and they're focused on making food and making sure that it's on time."
One trick she's learned is around staffing. Two people in a small space means she puts even more focus on scheduling people that enjoy working together.
She's going to reassess the model and the space in six months to a year as she sees some normalcy in the orders and can think through the finances better. So far, sales are growing and customers who would drive miles to her other location are happy to have a new delivery option. Vasquez is even thinking about growing the menu as her team gets used to the smaller space.