One of the biggest alcohol trends to emerge in recent years is online ordering, with the desire for convenience and safety attracting consumers to opt-in for delivery.
DoorDash has seen a 100 percent year-over-year growth in orders for alcohol pickup and delivery on its platform between 2022 and 2023, according to the company's annual Alcohol Online Ordering Trends report. And one in 10 U.S. consumers have ordered alcohol delivery in the past six months, with 60 percent of those surveyed using alcohol delivery more than the previous year.
The delivery giant points out several consumer behaviors that have aided in the uptick of on-demand alcohol—including how some shoppers already know what they want to order and find it easier to browse for their favorite beverage brands online rather than head to a store. The survey found that 42 percent of alcohol shoppers cited comfort, convenience and time-savings as their reasons for using the on-demand service.
For some, the delivery itself is a benefit, with 20 percent saying the ease of not having to carry the beverages home as a reason for ordering delivery. Still, others place orders simply for the fun of it—with 67 percent reporting they order alcohol online as a treat.
Time trends 
DoorDash reports consumers are ordering alcohol both in advance and last minute. The survey states 24 percent order alcohol a day or two in advance while 57 percent are for same-day delivery. Of those same-day orders, 15 percent are classified as last-minute or urgent. DoorDash uses the example of consumers needing to quickly replenish supplies when hosting a party as a reason for urgent orders.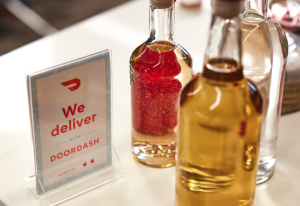 Repeat shoppers are also a norm, with 7 in 10 consumers ordering at least monthly.
When it comes to types of alcohol ordered, consumers are drinking all varieties, according to the report. But seltzers like the White Claw and hard ciders reign in as top ordered, with whiskey, bourbon or scotch coming in second.
Although alcohol delivery often comes right from liquor stores, there's also the option to order through restaurants that offer the service. DoorDash adds that adding alcohol delivery to restaurants could drive profits, citing its data that the additive could increase order values up to 30 percent.
On-demand alcohol business booms 
In the last few years, several major retailers have launched or relaunched alcohol delivery programs. Target partnered with Shipt in 2021 for same-day alcohol delivery, meanwhile 7-Eleven has teamed up with Minibar Delivery to make alcohol delivery available from select stores.
In addition, other third-party delivery providers have their eye on attracting alcohol delivery consumers. Gopuff and Uber-owned alcohol delivery platform Drizly recently collaborated to bring Gopuff's assortment of beer, wine and spirits to Drizly's online alcohol shop, while expanding the number of BevMo and Liquor Barn stores on the platform.
The Alcohol Online Ordering Trends Report was conducted by Material on behalf of DoorDash, surveying 500 U.S.-based consumers who had used on-demand delivery in the past six months.