Countless states and cities loosened laws to allow delivery of alcohol and prepared cocktails during the early days of the pandemic, and now that the case numbers are dropping and society is reopening, many of those governing bodies are extending those changes or making them permanent.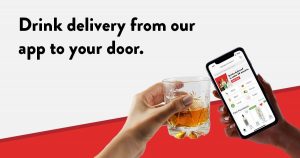 In recent months, Alabama, Arizona, Florida, Georgia, Illinois, Louisiana, Maryland, Michigan, Mississippi, Ohio, Texas, Virginia, Washington and West Virginia—among other states and cities—have passed bills either extending or making permanent laws that allow alcohol delivery from restaurants, bars and, in some cases, liquor stores.
While some of these bills are still awaiting governor signatures at the state level, some cities are also taking unilateral action or asking state houses for legislative action, including New York City. California, Massachusetts, Pennsylvania, South Carolina and Wisconsin are also among states with legislatures that have been debating similar moves in recent months.
Looking at recent acquisitions and expansions from third-party delivery and e-commerce providers, like Uber acquiring Drizly in February, Square adding alcohol delivery for merchants and DoorDash highlighting the acceleration of its non-restaurant sales verticals during its latest earnings call, it's clear the major players are anxious to bring alcohol and cocktail deliveries into the fold.
While it's not specific to alcohol, it's also notable to see what PepsiCo has done with its recent launch of its Pep's Place virtual restaurant brand to help restaurants bring beverages further into the restaurant delivery fold which, to date, still far trails behind in-store dining in terms of both the guest experience and order volumes.
As any restaurant operator knows, drinks are often the highest-margin parts of the business. If soft and hard beverages can become a larger part of delivery, that could go a long way toward improving the economics for operators struggling to absorb the cost of delivery commissions and other rising costs.
If you'll indulge me in a semi-related rant, here in Minnesota where Food On Demand is based, legacy blue laws prohibit many entertainment and leisure activities on Sundays and include many outdated alcohol restrictions. Liquor wholesalers, other industry interests and their favorite lawmakers prevent many publicly supported updates to the state's alcohol-related policies, as evidenced by the (exclusively) 3.2 percent beer for sale within grocery and convenience stores. If you need to Google what 3.2 beer is, my point has been made.
Like our own Massachusetts Bay Colony on the edge of the prairie, normal strength beer, wine and spirits are not available for purchase at grocery stores or gas stations as they are in most states. Some cities, like my own, only sell alcohol products through city-owned liquor stores. Up here, we'll likely be waiting a long time even though the Minnesota Independent Restaurants group is currently petitioning lawmakers to allow the sale of sealed cocktail containers from restaurants as the current legislative session winds down.
Quoting one of my best friends who works at a restaurant in downtown Minneapolis, "We can't even deliver alcohol through third-party services that are able to deliver alcohol from liquor stores. It's dumb, but we can sell a small amount of wine and beer through curbside pickup."
I'll step off of my well-worn soap box and be grateful liquor stores are finally able to operate on Sundays and third-party delivery services like DoorDash and Drizly can deliver to my house from liquor stores.
Like plastic particles and forever chemicals found on the summit of Mount Everest and the plains of Antarctica, modern living finds its way in by hook or by crook. Here's hoping.
[end rant]