As Toast aggregate sales data shows restaurant sales growth in all regions of the U.S., the latest Restaurant Trends Report shows that on-premises dining sales were up 46 percent during the first quarter of 2022 compared to the first quarter of 2021, while takeout and delivery sales declined by 7 percent over the same period.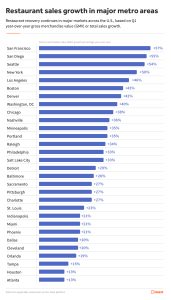 Pulling on sales data from approximately 62,000 locations in the U.S., Toast's numbers are one of the first large-scale reports showing a year-over-year decline in delivery and takeout sales. Its data ropes in many stats and customer behaviors, including tipping behavior, top performing cuisines and cities that are seeing the strongest restaurant sales growth.
According to the data, all regions in the U.S. saw significant year-over-year sales growth, but the western region grew the fastest, with 38 percent growth—a rate that's almost twice as high as the southern states.
Zooming down to the city level, San Francisco, San Diego, Seattle, New York and Los Angeles saw same-store restaurant sales grow the fastest in the last fiscal quarter. San Francisco was up 57 percent, San Diego grew by 55 percent, while Seattle, New York and LA were up 54, 50 and 46 percent, respectively.
On the tipping front, diner generosity remained steady, at an average of 19.9 percent for full service and 17 percent for quick-service restaurants. According to the report, diners tip significantly more when they are on premises versus when ordering takeout or delivery—which isn't new information for anyone in the industry.
The Restaurant Trends Report uncovers key trends across the restaurant industry through aggregated sales data from restaurants on the Toast platform, which has approximately 62,000 locations as of March 31, 2022 in the U.S. All growth rates are calculated on a same-store sales basis for the applicable period of time.