Camile Thai, a Dublin-based franchised-fast casual restaurant chain, announced an agreement with Kitchen United to use its ghost kitchen facilities as the exclusive means for it to expand into the United States before building any brick-and-mortar restaurants.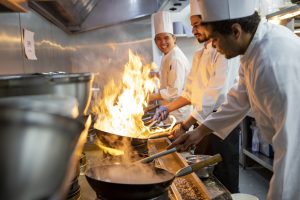 The first Camile Thai location in the U.S. will operate out of the Kitchen United MIX facility at 205 W. Wacker Drive in downtown Chicago. dishes will be made to order, sustainably-focused, and plant forward.
The Camile Thai and Kitchen United partnership will expand throughout 2021, with plans for new locations in Chicago River North, Pasadena, California, and Austin, Texas.
"A big draw of the ghost kitchen model is market entry into the U.S.—for us, it's a relatively quick way to get in and test the market," said Jonathan Dockrell, country manager of Camile U.K. "It works really well for us in terms of efficiency in the kitchen. Once we push the button, I think we'll open in eight weeks."
Since opening its first restaurant in 2010, Camile Thai has expanded to 40 locations in the United Kingdom and Ireland, and has quickly gained popularity as a tech-savvy leader in the food delivery space.
The Camile Food Group is the first company of its kind to do hot food drone delivery in Europe in partnership with Irish drone-delivery start-up Manna. Camile is confident that drones in the sky will quickly become commonplace in the near future, and is excited about the speed of three-minute delivery to guests, as the drones can reach a speed of 50 miles per hour.
Drone technology isn't the only way Camile looks towards the future. With robotic woks and a fully digital guest experience Drones are only a piece of the tech puzzle.
"Kitchen United is constantly evaluating new and advantageous ways to support our restaurant partners," said Michael Montagano, CEO of Kitchen United. "Based on our partnership with dozens of operators and proven experience of Camile Thai, we are well-positioned to grow together here in the U.S."
Camile Thai CEO, Brody Sweeney concurred in a joint released about the partnership.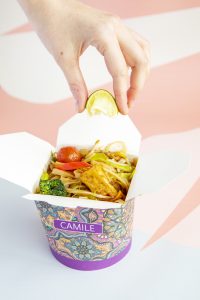 "We are excited to bring our concept to the U.S. and work closely with Kitchen United given its definitive leadership position in the ghost kitchen industry," he said. "We've seen a kind of renaissance for technology, driving investment and adoption years ahead of where we imagined it would be. The pandemic has altered how restaurants operate and given the go-ahead for virtual kitchens, without a storefront, to flourish…In addition to our tech-forward operations, we offer operator partners a flexible franchise model to position them for sustained success."
Kitchen United has plans to open more ghost kitchen locations this year, expanding to and in existing markets including Los Angeles, Austin, Texas, and New York City.
In the U.S., there is potential for brick-and-mortar locations.
"Ghost kitchens are a great way to test the market and we're very happy with our partnership through Kitchen United. There's people out there who want to open brick-and-mortar locations and we're happy to look at that down the line," Dockrell added. "So, in the U.S., that's a definite possibility."