If same-day shipping was the last, great frontier in ecommerce, getting those goods to customers within the hour or even just a half hour is becoming the next battleground for delivered groceries, convenience goods and retail items.
Startups like San Francisco's Food Rocket, which can deliver bags of locally influenced groceries in just 10 minutes, have begun attracting investors and customers in a bid to muscle past Instacart, Amazon and established grocers by building micro-fulfillment centers that can service dense residential neighborhoods in a flash.
Food Rocket founder and CEO Vitaly Aleksandrov says the plan for his newly capitalized startup isn't just building last-mile infrastructure for his company and grocery customers, but also for other retailers and producers that could use its dark stores as a micro-fulfillment delivery service—meaning the potential opportunity could be larger than just the grocery space.
At less than six months old, the company just announced a $2 million investment round from AltaIR Capital, Baring Vostok Fund and AngelsDeck, along with Jerrin James, an ex-Amazon operations executive and Philipp Bashyan, head of Lavka, a 20-minute grocery delivery service based in Russia under the multinational Yandex tech brand.
California, then Chicago
An ambitious guy with various awards, a published book on email marketing and other startups under his belt, Aleksandrov gets most excited talking about the artificial intelligence Food Rocket's platform uses to select the closest dark store or micro-warehouse to the end user to wring out maximum efficiency, reduce food waste and minimize costs while enabling those ultra-fast deliveries.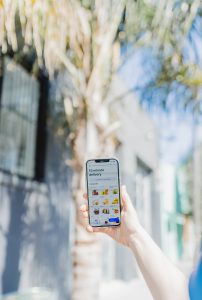 The company says it's the first U.S. startup promising delivery in 15 minutes or less, and it's currently operating in 20 areas throughout the San Francisco metro area as it finalizes plans to expand into Southern California and Chicago in the coming months. By the end of 2021, the company plans to open 150 of its micro-warehouses that are each capable of servicing at least 25,000 households.
Whereas near-instantaneous delivery of groceries is a relatively new concept in the United States, Aleksandrov says it's a "booming" industry in other parts of the world, especially in Germany, Turkey and France. He sees California as an ideal market to start in the states, before moving into additional urban markets where the company's planned network of small, carefully placed warehouses can hit tens of thousands of presumably well heeled, time-crunched customers.
"This is super local ecommerce," he said of the business model. "Around 35 percent of our SKUs are fresh items … it's totally different than Gopuff, they focus mostly on snacks and alcohol and we focus on vegetables, fruits and other stuff."
He added that Food Rocket will also work with local suppliers, producers and manufacturers to expand its offerings of ready-to-eat meals, so its product offerings can take into account the tastes and flavors of particular neighborhoods, not just particular cities or states.
Acknowledging that the company faces myriad hurdles as it grows ranging from finding appropriate real estate for its warehouses, receiving municipal zoning approval, keeping investors on the line and even basics issues like bringing scooter and bike delivery systems into northern climates, Aleksandrov said he is building a leadership team with skills directly applicable to those challenges.
"Every investor understands that this business model will change and disrupt the grocery market," he said. "This business model, to be honest, has an unbelievable retention rate. Around 60 percent of customers buy again and again … and in San Francisco, it will be hard for other players to take [our customers]" adding that the "wow experience" of such fast deliveries is another factor helping to attract both investors and new customers.
Winter is coming

Compared to Instacart, Gopuff, Amazon Fresh and DoorDash's Dashmart virtual convenience stores, which Food Rocket views as its primary competitors, the company isn't currently paying money on customer acquisition because its users are sharing posts expressing their amazement at the fast deliveries and some buildings within its delivery territories are posting the service as a de facto amenity for residents and tenants.
After planning to move into the San Jose and Los Angeles markets later this year, Food Rocket is then planning to expand to Chicago due to its high-density, compact layout that's more like European cities than many North American urban centers.
When asked how electric scooters and bikes will perform in this famously cold, windy and snowy city during the winter, Aleksandrov said there "can be some problems with batteries" but nothing that can't be solved by replacing battery packs, frequent recharging and dressing appropriately for conditions. He added that a colder climate means people will be more appreciative of having their grocery staples delivered.
Thus far, with just a few months under its belt, Food Rocket is focused on households rather than corporate clients. Initial traction is coming from the 20- to 50-year-old age bracket, but Aleksandrov said there are no standout demographic characteristics suggesting to him that rocket-fast groceries are equally appealing to everyone, especially during the tail end of a global health crisis.