Uber Eats has pledged to make 100% of its food delivery trips emission-free globally in 2040 and to eliminate "unnecessary" plastic waste from deliveries by 2030.
The announcement follows Uber's ride-hailing service 2020 commitment of $800 million invested in zero emissions globally by 2040. 
"We have a unique opportunity to help deliver a greener future. In the same way we're leading the ride-hailing industry on the road to zero emissions, we aim to be the first global delivery tech platform to support the transition to more sustainable packaging—not just for Uber Eats merchants, but for the broader restaurant delivery ecosystem," Uber wrote in a statement.
This comes as each year 11 million metric tons of plastic waste enter the oceans, according to the Pew Charitable Trust. As consumer take-out items—mainly plastic bags and wrappers, food containers, cutlery and bottles—make up the largest share of plastic pollution across marine environments.
Uber's challenge to go carbon neutral is certainly massive, with 800,000 restaurants on its platform. That's why the company released a string of new features and options to aid restaurants, drivers and consumers in choosing and offering greener choices.  
Greener Packaging 
Consumers on the Eats app will now be able to search for restaurants that offer sustainable packaging. That kicks off in New York City, San Francisco, London, Paris, Amsterdam and Taipei to start.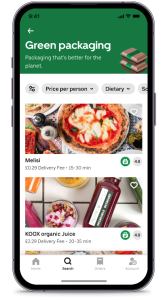 To help restaurants deploy greener packaging, Uber has partnered with various sustainable packaging companies to offer discounts of up to 35% off retail prices. This includes collaborations with Green Paper Products, Bunzl, Enviropack and Dinovia for U.S. and European markets and ITOCHU Corporation in Japan. Uber aims to bring similar discounts to Eats merchants in other countries in the future. 
Zero Emissions Goal 
The company is also working to convince more of its drivers to switch from gas-powered vehicles to EVs.
Uber recently announced that tens of thousands of drivers have signed up to rent Tesla vehicles through its partnership with car rental company Hertz in North America. That partnership is expanding to Canada and Vancouver. 
To help couriers transition to e-bikes, EVs and other emission-free modes, the delivery giant is expanding its mobility partnerships with companies like Cooltra, Human Forest, and Zooma. 
In addition, Uber is investing in increased batching of delivery orders and green routing to reduce vehicles on the road and per-delivery emissions. 
The new commitments were announced at Uber's first-ever Get Zero sustainability event in London Thursday.