An accelerated partnership from Zume and Solenis aims to replace plastic and styrofoam foodservice packaging with a new line of PFAS-free products that the two companies claim is better for the environment.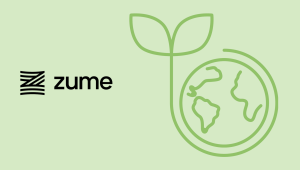 Doubling down on an existing partnership, the two companies are introducing what they call "the most comprehensive line of 100 percent PFAS-free" molded fiber packaging for the foodservice space, including cups, bowls, egg cartons, protein trays and more. Called a first for the industry, the two companies hope to help global food brands replace plastic and styrofoam packaging materials with solutions that are more sustainable and competitively priced.
Popular for their grease- and water-resistant properties, PFAS-derived packaging is commonly found in foodservice packaging, and is often referred to as a "forever chemical" due to its resistance to degradation in the natural environment, which can contaminate drinking water sources.
This joint partnership furthers efforts from Zume and Solenis to expand PFAS-free molded fiber solutions to replace entire categories of single-use plastic without harmful chemicals. Zume will provide its advanced molded fiber manufacturing capabilities and professional services, and chemical producer Solenis will supply its expertise in functional additives and surface coatings which increase the strength and functionality of Zume's fiber recipes.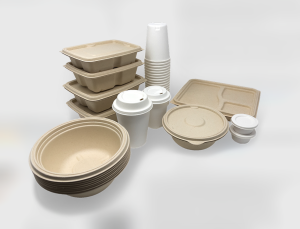 "Until now, an economically viable solution for brands to transition from plastic and foam packaging hasn't been available," said Zume CEO and Chairman Alex Garden. "Our patented molded fiber manufacturing equipment system and technology enable us to offer sustainable packaging at the same price or less than plastic. This partnership with Solenis advances efforts to eliminate single-use plastic and enables brands to keep commitments to stop using PFAS."
The companies have outlined a technology roadmap of solutions they will collaborate on, including cups, bowls, plates, premium egg cartons, coffee cup lids, protein trays, and yogurt cups. Zume and Solenis aim to help global food brands replace their plastic and foam packaging with a sustainable and cost-effective alternative.
Molded fiber manufacturing cells (MFC) integrated and installed by global robotics leader ABB will test the packaging line to ensure these solutions meet the standards consumers expect from food packaging, including grease resistance, snap-able lids and spill-proof boxes. ABB's robots will automate production and enable the scale and speed needed to make Zume's sustainable packaging and drive real change across the global supply chain.
This announcement builds on other breakthrough work from Zume and Solenis, which brought the packaging community together to accelerate the removal of PFAS with the world's first open-source guide to PFAS-free packaging for global food manufacturers and CPG brands.
More information about the partnership is available at zume.com/zume-x-solenis.