What was once a pandemic necessity may be becoming habit. In a report issued by Wells Fargo, analysts including Brian Fitzgerald and Jon Tower project that delivery will hold onto its intra-pandemic market share or even grow as restaurant sales rebound during the second half of 2021.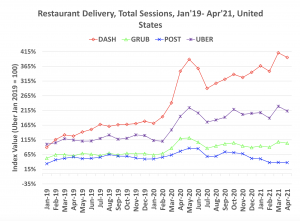 Revenue growth estimates for the three largest delivery platforms in the U.S. suggest the online delivery sector will continue to grow. Wall Street estimates aggregated in the report predict that Uber Eats will grow revenue by 80 percent year-over-year (YoY) in 2021, DoorDash's revenue will grow by 45 percent YoY and, at Grubhub, revenue will grow by 25 percent compared to 2020.
Delivery penetration reached 20 percent in independent restaurants and 11 percent among chain restaurants in 2020. Aggregating both categories, total delivery penetration was 14 percent, representing $70 billion of $490 billion in sales across both categories. The analysts project that slice of the pie will remain largely constant through 2022 before rising to 23 percent by 2028. They also expect the independent-chain divide to grow with time, projecting 35 percent delivery penetration among independent restaurants in 2028, compared to 16 percent in chain restaurants.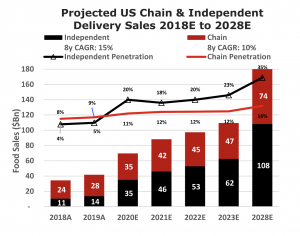 Those market share estimates include third-party delivery apps, such as DoorDash, first-party apps, such as those offered by McDonald's and Chipotle, and orders placed by phone. The analysts forecast that delivery via third-party platforms, which accounted for $50 billion of the $70 billion in delivery sales in 2021, will grow the fastest. Delivery via first-party delivery apps, which accounted for $8 billion in sales for 2020, will grow slightly slower, while phone orders that accounted for the remaining $12 billion, will shrink steadily.
The report projects that restaurant sales will grow by 24 percent in 2021, more than offsetting the 19 percent decline observed in 2020. If delivery platforms can hold onto their intra-pandemic market share, as the report suggests, the delivery sector will grow significantly in 2021.
For context, delivery accounted for 7 percent of restaurant spending in 2019. While mean reversion remains a risk, there's no evidence of such a massive decline. Delivery app analytics from April, the most up-to-date information shared in the report, showed that engagement KPIs and monthly average users plateaued between March and April 2021, even as the United States entered the early stages of pandemic recovery.
App data revealed a similar trend in grocery and C-store delivery. The analysts found that monthly average user growth has been flat for many of the leading services, including Instacart, Drizly (to be acquired by Uber), FreshDirect and Gopuff. Only Instacart, a leading grocery delivery platform, has seen session numbers significantly higher than 2019 levels. Sessions, in this instance, serve as a proxy for orders. Instacart sessions are trending down from local maxima in December 2020, but aren't trending downwards fast enough to imply a reversion to 2019 grocery ordering habits.
Readers can look to guidance and earnings reports from DoorDash and Uber Eats for a glimpse into the future of U.S meal delivery. If the companies revise down their estimates, it may mean April was a fluke, brought on by the third round of stimulus checks. But if the companies hit their revenue targets for Q2 2021, which will cover April, May and June, it will be a strong sign that our pandemic delivery habits are here to stay.